"Profiles & Directories" section will only available if you activate "Social Fature" from ARMember -> Add-ons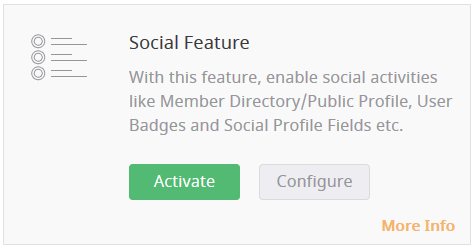 ARMember provides 2 types of predefined templates : Member Directory Templates and Profile Templates:
Number of predefined templates are available for users profiling.
Number of predefined templates are available for user directory listing view.
When you enable Social Feature first time, Default Profile page will be inserted with profile template shortcode automatically. This page will be use as user's profile page. You can change profile page at anytime from Page Setup.
Shortcode for each template to use in post, pages or anywhere.
Multiple Color Scheme support, also you can customize color options by clicking on paint brush icon. as you can see in below screenshot.
Font-settings to set font styling like font-family, font size, font weight, font style, font decoration & etc. We also support Google Fonts.
Custom css option to add your own style.
Preview option to see how template will looks in front-end.
Manage Profiles & Directory Templates
Here you can manage profile templates & directory templates. You can add directory templates as many as you want by clicking on Add Template box.
You can Preview, Edit Template Options & Delete Template from here. You will find those options by hovering on specific template.
Profile Templates

Directory Templates