Content Restriction is a core feature for any membership plugin. ARMember provides very easy interface to set restrictions to the website content.
Very simple toggle buttons are available to turn on or off content protection.
Note: By default, when ARMember plugin is just installed, at that time all existing posts, pages & other content will remain open for all.
Content Protection Access Rule can be defined for:
Wordpress Pages
Wordpress Posts
Any Custom Post Type
Post Taxonomy(ex:category..)
Navigation menu links(NAV Menu Lock)
Buddypress pages(If your site has Configured the Buddypress plugin)
Buddyboss pages(If your site has Configured the Buddyboss plugin)
Special pages like Archives which can be monthly, yearly, per author.
New page/post/custom post of system will be created with Default access rules set in Global Settings of ARMember.
Check Following Screen of Access Rules Settings, provided in ARMember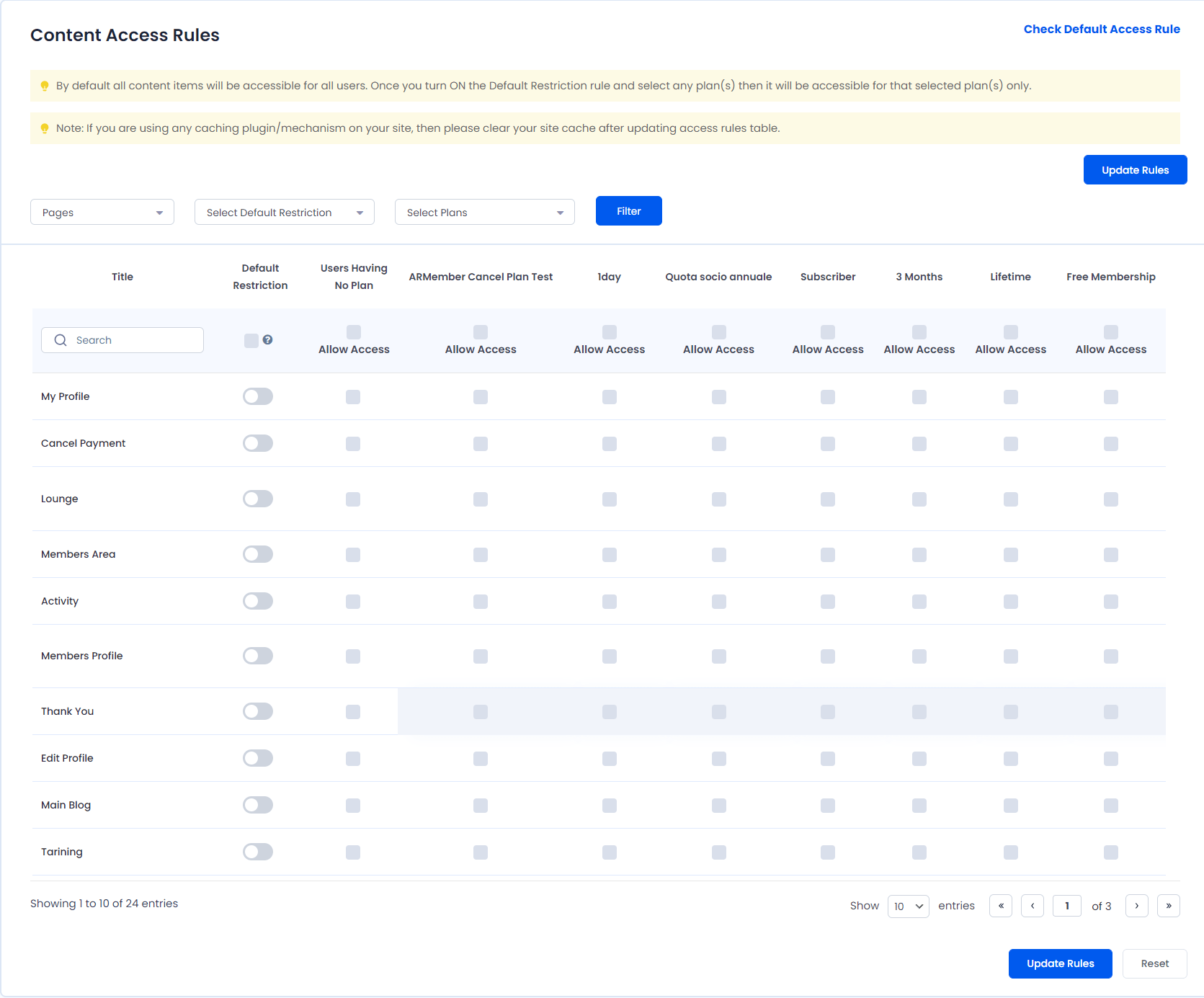 Title
This Column will list all type of content available in website like
PagesPostsCustom PostsCategoriesTaxonomy, Navigation MenusSpecial PagesBuddyPress PagesBuddyboss Pages
Protection
Set Content Protection ON/OFF by single click.
Other Columns of Plans
Other Columns will be available based on plans which are created in your site system.
Access Rules – Metabox
When you add new page/post/custom post, at that time default Access Rules which are set in general options will be applied for the pages/post/custom post for that specific type.
So, those default rules will become editable from that particular page/post/custom post having meta box in TOP RIGHT corner. So, that can be changed easily. You will find metabox shown in following image
Provide Specific Content Restriction
ARMember provides a way to restrict a portion of content of whole page/post etc..
This option is directly available above wordpress editor, named as "Restrict Content".
You will find a handy popup with following options shown in below image: