Drip Rules for Scheduled Content
"Dripping" content is the process of delaying the release of content in your membership site for site members. ARMember includes full drip/periodic content functionality which allows you to reveal your content periodically. This provides by an inbuilt module of ARMember "Drip Content"
At Drip Content Tab – you will find a grid listing to manage all drip content rules with columns shown in bellow image.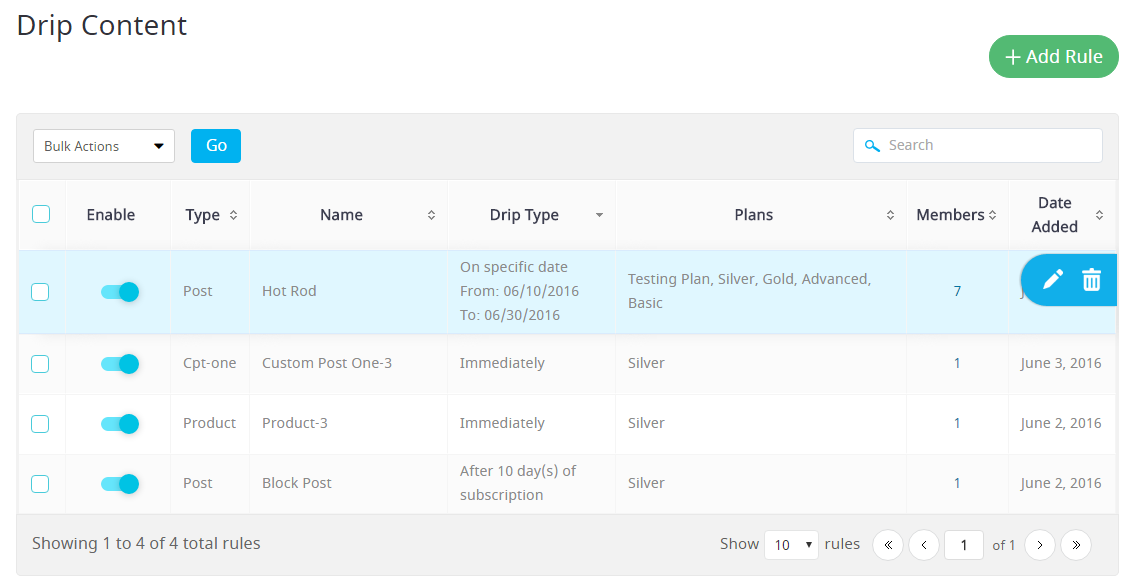 Status – Provides switch to ENABLE or DISABLE rule.
Type – Post Type of Post / Page / Custom Post / Custom Content.
Name – Title of Post / Page / Custom Post. (Shortcode in case of Custom Content)
Drip Type – Drip rule type.
Plans – Plan names(Drip Rule will be applied to members of these plans).
Members – Number of matching members who will get affected by rule.
You can create drip rules by clicking on Add New Rule button. Also you can update existing rule by clicking on Edit Rule icon.
You can add three types of drip rules:

Immediately
This type of drip rule will be applied immediately after user get subscribed to the relevant plan and also to the users who are already subscribed to that plan.
---
After certain time of subscription
This type of drip rule will be applied to the members of selected plan after number of days from their starting date of subscription.
---
Specific date onward (range)
This type of drip rule will be applied to selected plan members in between selected date range. If you select From Date & didn't select To Date, then this rule will be applied from "From date" to "infinite time".
Drip Rule for Partial Content of a page/post/custom posts
This setting becomes very useful when you don't want to Drip full post or page content. So, if you want to drip some specific block of content then this option will work for you.
While adding drip rules, you will find Custom Content option in Content Type drop down list. By selecting this option you will be able to add custom content and along with that one related shortcode be available there.
By using that shortcode in any page/post/custom post you can drip your specific content – the content only added within the shortcode. Other than that all things will work same as drip content for page/post/custom post.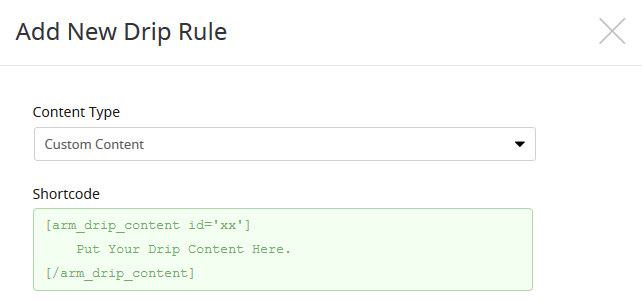 If you have created any drip rule for "custom content" – then it will be available directly in list of shortcode supported with wordpress editor. (Wordpress Editor – more information)