Invoice is one more handy addon offered by the ARMember plugin. Activating this free built-in addon will simplify the process of generating and managing invoices for the membership plans or any other products or services you sell through your membership website.
It will automate the entire process, from generating invoices to sending them to relevant members or customers for their purchases or subscription to your membership plans. Whether your membership site sells recurring subscriptions or one-time packages, this powerful addon will handle everything independently without involving the complex manual process.
Once you activate the addon, you will find a pre-built invoice template by navigating ARMember > General Settings > Invoice Template. The addon has been designed in a way that the person with less technical knowledge can also customize the template in just a few clicks.
As you can see in the below screenshot, the right sidebar consists of an exhaustive list of 20+ template tags required to generate all types of invoices.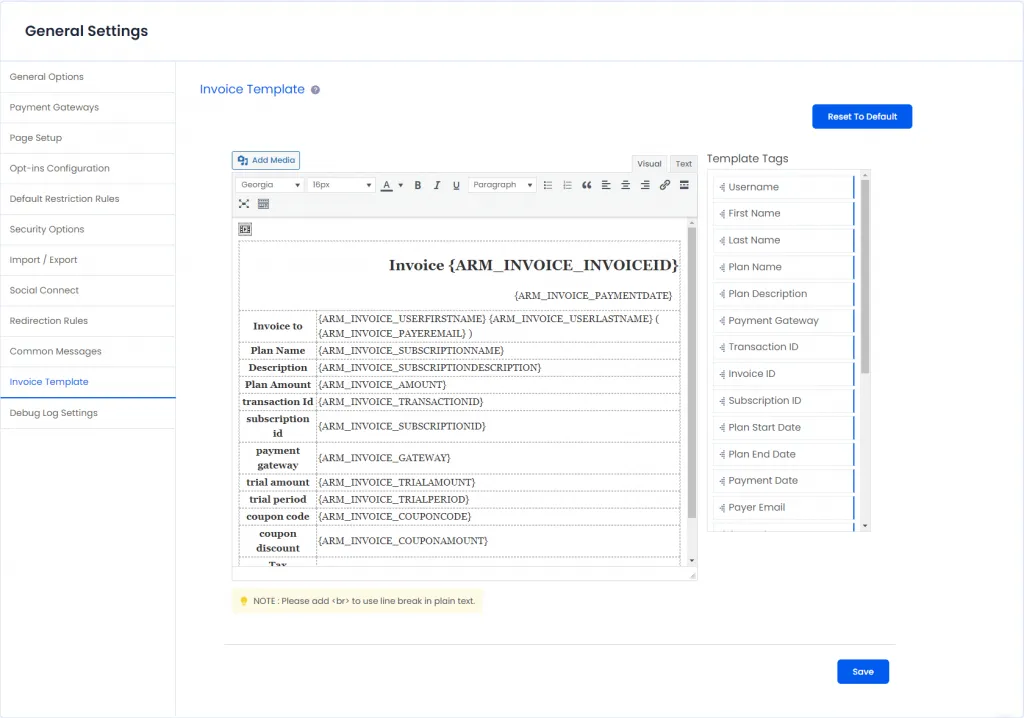 You can opt for any or all as per your requirement. For example: If you wish to add the additional template tag from the list, add a table row, table heading, and column using
,
, and
HTML tags by navigating the "Text" tab next to the "Visual" tab of the text editor. And then, with a single click, you can add a new field to your invoice. Similarly, you can delete any of them if you don't require them.

Now if you want to view the invoice, you can navigate to ARMember > Payment History, which gives you the option to view the invoice generated for the particular member or user.