The ARMember Social Community addon enables you to create an on-site social network to help members engage in communication and build connections.
It's a sure-fire instrument to improve member retention and optimize your membership WordPress website management workflow without bbPress or BuddyPress.
The existing members will get a chance to share experiences with the fellows, make new friends, chat privately, comment and follow each other publicly, allow member to create a group, group post, and do many things together as a community.
For you, a website administrator, the social networking system can eliminate some emailing and communication tasks and help you create a stronger membership community.
The Main Features of the Social Community Addon for WordPress Membership Websites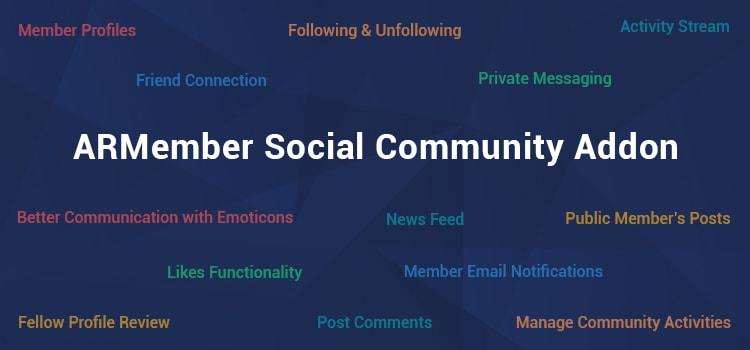 Member Profiles
Each member can participate in the community. You can decide which community options must be enabled for user profiles (friendship, following, etc.), use different profile templates based on the membership plan, and more.
Friend Connection
Allow members to extend their own network of friends by sending and accepting friend requests. Friending and unfriending are easy.
Following & Unfollowing
Instead of joining the list of friends, you can enable members to simply follow and unfollow each other to keep track of the member's public activity.
Private Messaging
Enable direct private messages between community members. You can designate the communication to happen only between friends or non-friends as well.
Better Communication with Emoticons
The system is ready to help members handle more meaningful communication by using emoji.
Member Groups
Enable groups between community members. You can designate the group post happen only between group members. Member able to set group privacy to Public, Private and Hidden.
Member Profile Settings
Member will able to set setting for their member profile like, email preferences, privacy and group invites.
Activity Stream
Let users share the news via a public activity stream.
Public Member's Posts
Allow users to write posts with featured images and make them public in the community; optionally enable engagement features for these posts, such as likes and comments.
News Feed
Allow member's posts to appear in the news feed of other members.
Likes Functionality
Allow members inside the community to like public posts.
Fellow Profile Review
Members can review profiles of each other publicly or privately. As an administrator, you can optionally go through the reviews yourself in order to approve them.
Post Comments
Enable public commenting on the member's posts.
Member Email Notifications
Set the community system to send automatic notifications on the profile updates to the user's inbox: new friend requests, messages, comments, etc.
Manage Community Activities
You can be an arbiter in any community interaction by managing user posts, reviews, and activities with the admin privilege.