BuddyBoss is a well-established and one of the most popular open source software perfect to create a powerful online community giving the touch of the membership website. To give you a comprehensive and engaging membership website experience, ARMember comes ahead with an inbuilt BuddyBoss integration addon and that too completely free.
You will find the "BuddyPress/BuddyBoss Integration" addon under ARMember > Add-ons in your WordPress dashboard. As mentioned earlier, this addon is free and you can directly activate it from the add-ons window.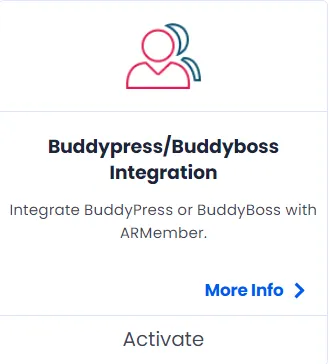 Let's check out the three major benefits you will avail with activating the above addon:
1. Content Access Rules Setup
You can set various content access rules for various BuddyBoss sections such as:
– Group creation
– Friendship request
– Private messaging
– View Member listing
2. Profile Mapping
It lets you set the ARMember's profile page when the user clicks on the BuddyBoss profile page.
3. Data Syncing
It facilitates you to sync data on both sides, i.e. data syncing from ARMember to BuddyBoss and vice versa.
All in all, this integration ultimately combines the power of ARMember and BuddyBoss platforms to let you harness the true sense of community under a single roof. It drives growth by attracting and retaining members, delivering personalized content, and fostering the community.