How to Collect Membership Dues Online?
May 20, 2023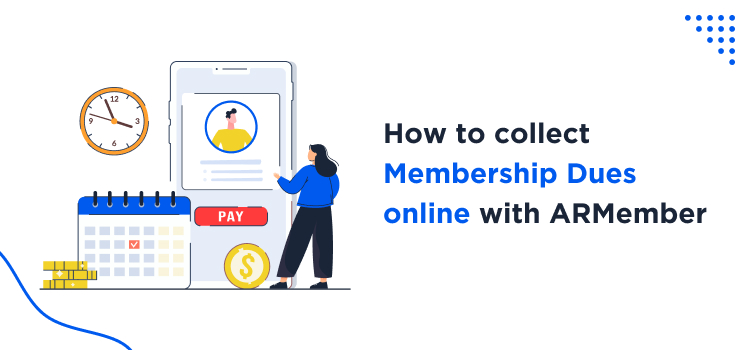 Do you want to
collect membership dues online
? This guide will teach you how to accept payment for your membership business online without hassle.
Business is happening online. Whether you run a store offline, you need to publish a website to make the most out of your business. When handling a membership website, you should create a website for it.
It will help you explain what you offer, your plans, and so on. On top of that, the world is moving digitally. Instead of accepting cash payments in hand, most people find
online payments
are more accessible and more convenient.
This is the right guide if you run a membership website and push it to successive boundaries. This post will share how to collect membership dies online without hassle.
Why Collecting Membership Dues Online Is a Great Idea
Most people moved to digital payments. Most people use a credit card, debit card, or similar online payment methods, even for small purchases. Since you run a membership website, you must need a website and an option to collect membership dues online.
It helps your business grow.
For example, setting up a membership website is mandatory if you target people from multiple locations with a service online. Since your members can't make the payments offline, online payments are prefeed for uninterrupted service.
So, by creating a membership website and adding an option to collect membership payments, you can offer your service to a broader audience. It will help you gain more revenue and reach in the community.
How to Collect Membership Dues Online
To collect membership dues online, there are three steps.
Configure ARMember Plugin on your membership website

Set up payment gateways correctly

Collect payments without any hassle
Below, we are going to explain each step so you will get a better understanding of the idea. Let's start discussing the subject right away.
Step 1: Set Up ARMember
When you run a membership website, you need a top-notch plugin. Look no further; we have developed the best and feature-rich WordPress membership plugin for the community –
ARMember
.
ARMember is a freemium WordPress membership plugin with unique features and integrations. The lite version of the tool is available inside the WordPress plugins repository, and it comes with basic features.
On the other hand, if you prefer more cutting-edge features and integrations, you should check out the premium version. Since the plugin offers affordable pricing, you will love the tool for the features you get.
You can complete the ARMember plugin purchase from
here
. Once you have the plugin file, install it on your WordPress website.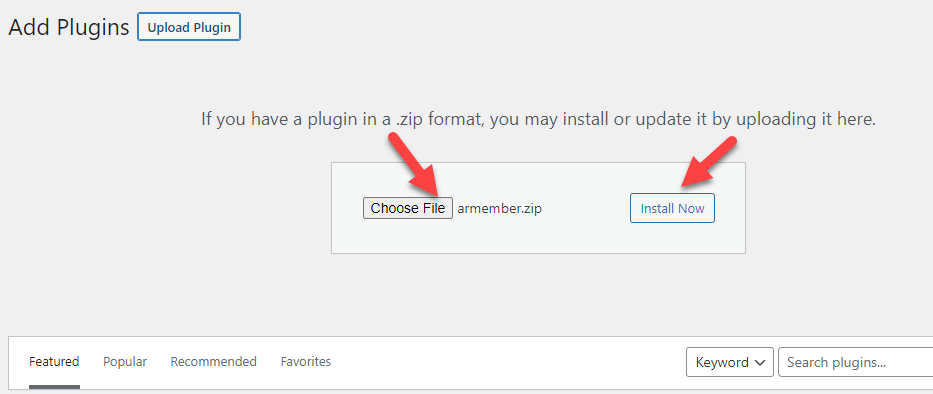 Once you have completed the installation, you should activate the tool.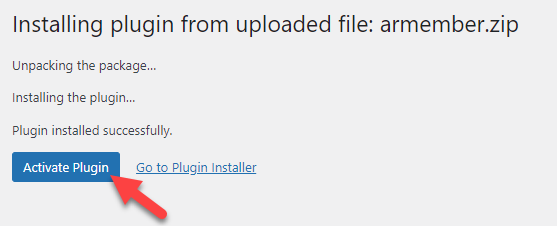 The plugin's settings can be found on the left side of your WordPress dashboard.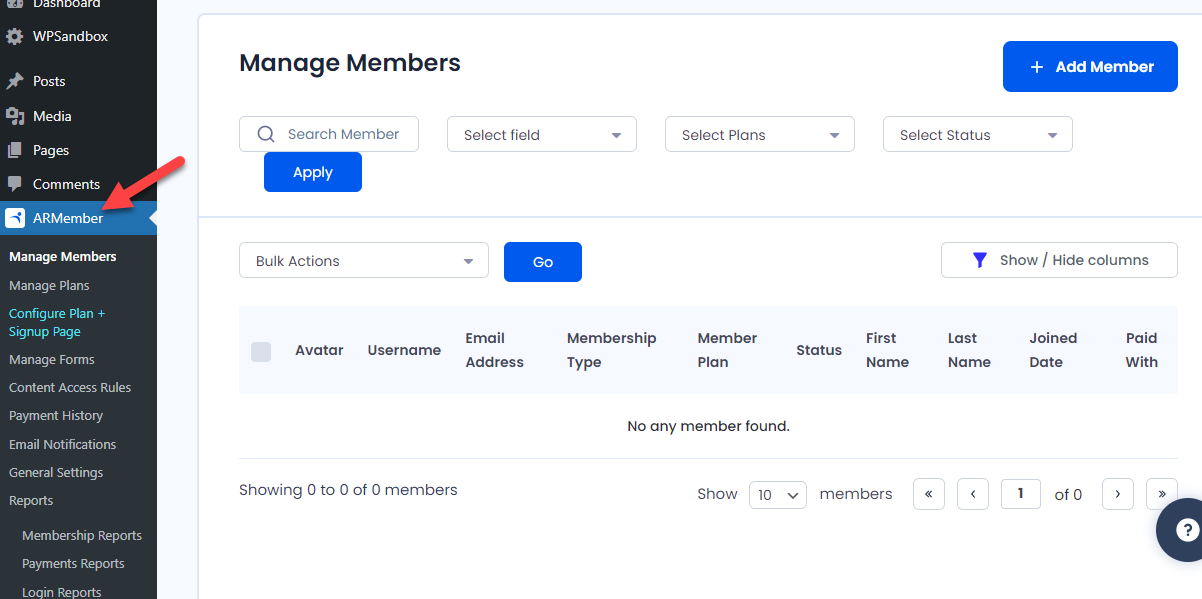 From there, you can configure the plugin according to your preferences. ARmember will help you set up multiple pricing options, create forms, see the stats, email notifications, and so on.
We have already published a
step-by-step guide on setting up a membership website with ARMember
. So, feel free to follow the tutorial to configure your membership website.
Step 2: Set Up Payment Gateways
This is the primary step in the process. Before this step, you have successfully configured a membership website with ARmember.
The very next thing you need to do is set up the payment gateways. ARMember comes with a dedicated page for the payment gateways feature.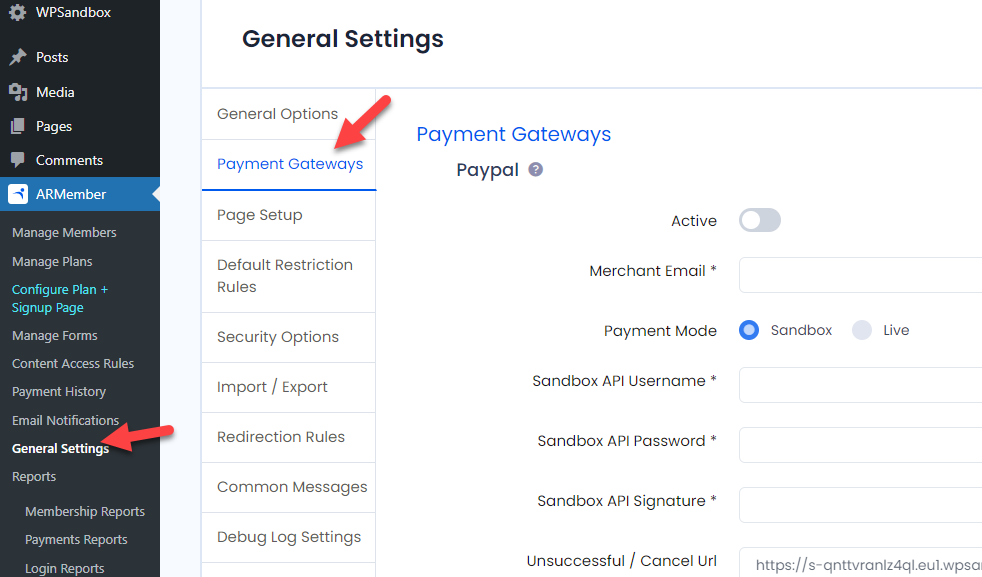 Thankfully, ARMember comes with multiple payment gateway integrations. And they are:
PayPal

Authorize.net

2Checkout

Paddle

PayFast

PayStack

Square

Braintree

Klarna

Mollie

Bank Transfer
And so on. It is very simple to set up a payment gateway. You do not need to edit any plugins or website files. With some
dedicated API
keys, you can complete the process.
For example, mark it as active if you plan to use the PayPal payment gateway.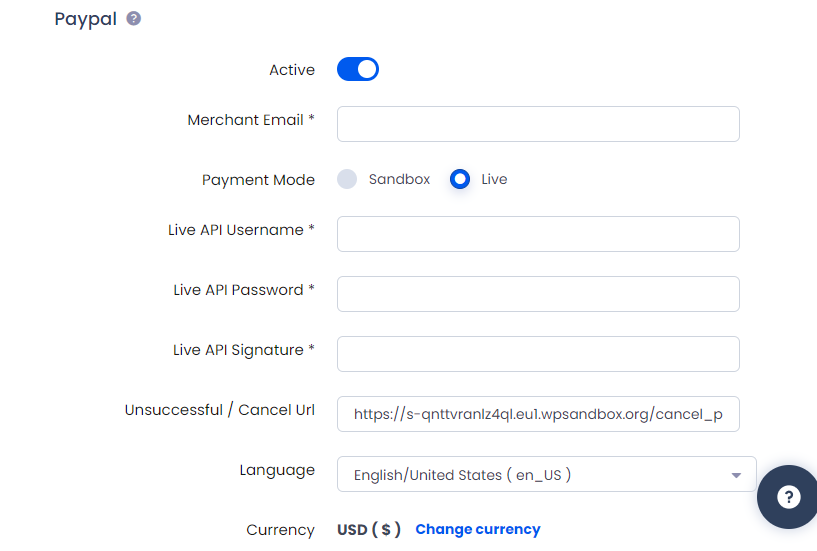 Then, you can enter your
API Username

API Password

API Signature
You can gather these keys directly from your PayPal business account. Once you have entered the keys, finish setting it up and save the changes.
Similarly, you can configure any payment gateway you like. If you target visitors from India and need to set up local payment options such as UPI, you should use PayUMoney.
After setting up your preferred payment gateway, move to the next step.
Step 3: Collect Payments Easily
When someone pays for the membership through your membership website, the amount will be credited to your respective account.
For example, if you select the PayPal payment gateway and connect your business account with keys when someone pays you, the amount will be credited to your PayPal account. You can then manage the funds from there.
Similarly, if you have
configured Stripe as the payment gateway
, the funds will be moved to your assigned Stripe account.
That's it. Once you have configured the payment gateways, you can sit back and relax.
It's that simple. Following this method, you can collect your membership dues online in three simple steps.
Conclusion: How to Collect Membership Dues Online
As you know, everyone who owns a business needs a website. A business website is a must if you are handling a membership business.
As you can see in this article, there are three significant steps in accepting payments online for your membership website.
Set up the ARMember plugin

Configure payment gateways

Start collecting payments
With a powerful plugin like ARMember, you can accept payments through various mediums. Since it is one of the top-selling plugins in the market, you should choose it for maximum benefit.
That's it!
This is how you can collect membership dies online. We hope you have found this post helpful and learned something new.
If you liked this article, you'll love these related ones. Don't miss out on more valuable insights!