How to Make Money From a Free Membership Site (4 Strategies)
April 30, 2022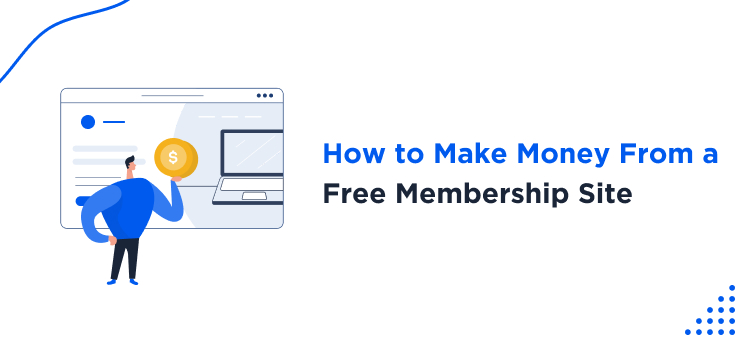 It is quite a reality that free membership sites would grow much faster and quicker than other premium websites. But for businesses in terms of monetary benefits, these websites are not considered to be ideal. Now here we would show you how to make money from such free users and keep your business afloat. Why put so much effort into this? The main reason behind this is that free membership sites don't charge any subscription fees. For any business, the main aim is to generate revenue, so in doing this we need to be more creative and develop strategies that can generate revenue. There are different methods available such as
affiliate marketing
and eCommerce sales that can be used to do this. In this article, we will list 4 of the most popular strategies which can be used to make money from free membership sites. Before going on that let's discuss the reasons behind creating a free membership site.
The reason behind creating a Free Membership Site
Whenever any user hears the word free they are more attracted to it. That is the reason why a free membership site should attract a large user base and can generate more traffic compared to a paid site. Ideally, it can increase your brand exposure. Along with that free
membership sites
can get products or services good reviews and recommendations. You can also create online communities that market your brand.
Overall, a free membership site with free access can generate revenues for your website without charging direct fees to your users.
4 Strategies on how to Make Money From a Free Membership Site
Promote Products using Affiliate Links
One of the most successful techniques for generating revenue is by using Affiliate Marketing. In this technique, a company recruits affiliates who sell its products or service online. For this affiliates first must sign up for the service provider's website, then they are provided with a specific link to that website. When any visitor to the affiliate's site clicks on the advertisements and go the advertiser's site, the affiliate will receive a commission if that clicks leads to a sale. The main advantage of affiliate links is that they can track the sales and offer opportunities to those who are interested in selling another party's products. Affiliate marketing can also lead to creating product round-ups. In this, you discuss popular items and then link them to affiliate URLs.
Income generated from Affiliate income can vary depending on the products or services offered. For every purchase, you can get a commission from $1 to $20 depending on the type of the business.


Using eCommerce Platforms to sell products
eCommerce Platforms have become one of the biggest markets where you can brand as well as sell your products very easily. You can sell your products by setting up an eCommerce Store of your brand. Based on your members base you can offer multiple options for them:
For Bulk Products: You can products a huge discount if the products are purchased in large quantities.
Specialized Customized Products: You can create customized products as per the member's request. It is very important to remember that you need to offer some value to your members. Making unique products or having niche items in your eCommerce Store can increase your sales and generate good revenue.


Getting into Paid Advertising Marketing
Paid Advertising is an online market where you place ads on relevant platforms for which the advertiser has to pay. It is somewhat like a bidding system where the advertisers who are ready to pay more money for an ad space win. Advertisers would pay based on impressions or clicks. So when you enable paid advertising for your membership site, it will sell the ad space of your site to a third-party platform. The company which manages the paid advertising will then find out the advertisers who are interested in promoting their products on your website. The website can generate its basic revenue by displaying product advertisements on its websites. Here you also need to be more careful about not displaying too many advertisements on your website. As it may make your membership site off-put for your members.


Offer Premium Features on the Free Membership site
You can provide Premium features on your Membership sites. Users can use new functionalities and pay for them only if they find them useful and worthy. For example, Wix is one of the most hosted website builders that offers a limited free plan and several premium plans. The free plan allows you to create a member's area and let visitors register and get access to exclusive content. As and when you upgrade to one of the premium plans, then you can sell period subscriptions without installing any third-party integrations. You can also offer free trials to some of the premium features to make members on paying for them. Thus adding premium features to your membership site can help in generating more revenue for your business.
Conclusion
A free membership site is a great way of generating traffic and growth for your website. Also, it provides multiple options that can help in monetizing your members by making them upgrade to premium accounts.