6 Marketing Strategies to Skyrocket your Membership site in 2023
July 20, 2020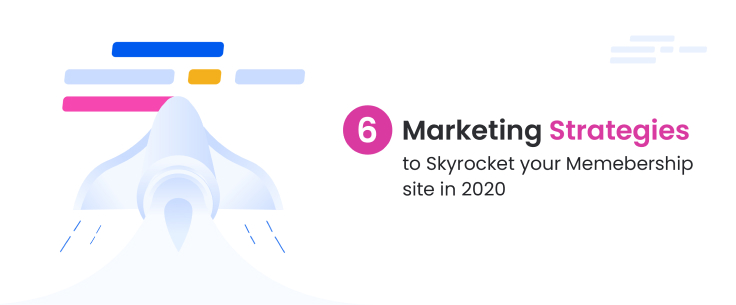 Building a membership website
can prove to be a great way to get consistent recurring payments, build community, and to serve your audience for what they might be looking for. When we talk about the membership website, you can plan out the membership site marketing strategies considering many aspects. Possibly, you may have found the best niche to run your membership site. For make the most out of that niche and get the most benefits from your selected membership site niche, you started launching events, the events could be both in-person or the virtual one, maybe you have started webinars to get the engagement of more and more people. After applying all that tactics, next you would be looking to roll in more members into your membership site, but unfortunately, it's not just happening yet and you couldn't figure out the reason! At that time, you might not feel so lucky right? But that's not it, to grow and to maintain a membership website takes time and effort both from your end! For that, you need to ensure that the membership marketing and self-promotion at the same time go parallel.
Significance of the Membership Marketing
In a layman's term, if you believe that just by building a membership website, your members are just going to flourish on your membership website then you have mistaken that so-called self-concept. It may be true that you may have the most amazing and unique, value-driven membership website across the globe, but let us make something crystal clear on that point. If the people and the audience doesn't even know about whether your membership site exists or not, how are they going to
Sign Up
? Surely, they won't! So, initially, you must begin with full-fledged membership marketing that allows reaching out to people and audiences about your offerings and then targeting the right kind of audience that fits best for your membership site business. Here, in this article, we will drive you with some of the best marketing strategies that can help you get success for your membership site. Without any further delay, let's get started!
Tactics you should think of While Offering a Membership to Audience
Creating Content
Content creation plays a key role while you are setting up a membership website. You can plan out to offer content related to educational, blog posts, PDF downloads, Email courses, eBooks, podcasts, videos, resources for your members, and audiovisual as per your niche. Of course, one thing you should sharply focus on is the quality content; you should offer more valuable content that could be worth signing up for your members. Your content should be such that your potential members could be able to identify you as an industry leader.
Crafting your Offer
After you set up the marketing strategy for creating content, you should then think of crafting an out-of-box selling tactics for your membership website. Doing so requires proper planning and in-depth research for things like clearly stating the benefits of joining your membership site, what your offerings are, and what type of problems it can solve. On the other hand, you should also mention what the different levels of membership level plan offers. At the same time, it is also important to offer
recurring payment options
whether Monthly, Quarterly, Yearly, or Daily
Sign Up Bonus
Offering a sign-up bonus, especially by offering some good perks like the access to your "premium level content" for a limited period after a member sign up to your membership website. Doing so will build trust among the members of your membership site.
Marketing to members who already signed up and purchased a Membership Plan
One of the key pillars of a successful membership site is to build a strong ongoing relationship between you and your members. You should also know that a membership site is not like any
e-commerce site
where someone purchased a product and you don't have to engage them again. Instead, it's like you and your members remain intact and connected as your members are making a monthly, quarterly, or yearly payment and continue to renew to your membership site.
Strategies to engage your members
Starting a referral program
A referral program is a great way to grow your membership website. It can do wonders because your site members work towards your goals to achieve new members and in turn, you offer those members with some good incentives. Let's say, for instance, if you are using ARMember WordPress Membership plugin for building a WordPress membership site, then you can make use of
ARMember
Affiliate Add-on
to offer an affiliate solution to your member so that they can earn a commission on each referral user that subscribe to your membership site.
Marketing through Automated Emails
Email marketing is by far the most reliable way to make your potential member stay stick to your membership site. You can build an automated email "marketing funnel" for the signed-up members because you already know they are interested in the services of your membership site. So, one thing you can do is to craft a sequence of marketing emails with the content that tells them more about the services or things offered on your membership website. Hence, you should use the best email marketing software to move email subscribers to the full-fledged member. You can use
Fluent Forms
to set automated emails to your clients. Because the plugin, comes with a variety of email marketing third-party integrations to make the process easier for you, and your website. To know more about
Fluent Forms
website.
Final Verdict
In the end, we would like to conclude that Membership marketing when done appropriately can help you to grow your membership website successfully. Step ahead and make use of the above-mentioned strategies and let us know if it worked in your case or not! What are the other tactics you would like to try out for your membership website? If you are using any of these marketing strategies for your membership website, then leave us your valuable thoughts and suggestions for anything we missed in the comment section given below. We would make sure to consider that on our future posts!