Email Marketing and Growing Your Membership Site's Success
December 8, 2017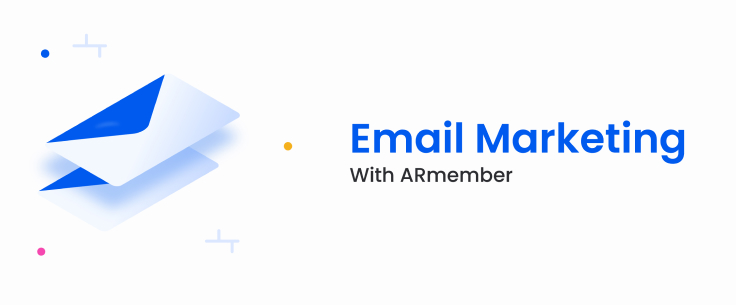 It is estimated that by the end of 2018 there will be over 5.2 billion email accounts worldwide. In fact, despite what people may say (you know, that email is dead), email remains the most persistent form of communication in the business world.
Email is a personal way of reaching out to your customer base. In addition, it is excellent for sharing information about your company (think discounts, new product launches, and exclusive deals) and is cost-effective when used in conjunction with your existing email marketing tools.
Today we are going to look at 4 of the top email marketing tools on the market today and see how they integrate to work seamlessly with your ARMember membership plugin.
The Top WordPress Email Service Providers
Choosing the right email service provider for your email marketing campaign can have a significant impact on your ability to attract, convert, and retain customers.
That's why the developers of ARMember chose to integrate only the best into their WordPress membership plugin – Constant Contact, MailChimp, GetResponse. and AWeber.

Constant Contact is one of the most user-friendly and popular email service providers to date. It comes with customizable templates, the ability to send out a series of email campaigns, and easy management of unsubscribes, bounces, and inactive emails so you can see where your weaknesses lie.
Additional features include:
Built-in social media sharing tools
Easy email list uploader
Drag & Drop technology

MailChimp is an email service provider integrating perfectly with WordPress. With it, you can connect your eCommerce store, create targeted emails, automate messages depending on user behaviour, and even utilize their newest feature – Google, Facebook, and Instagram marketing ads.
Additional features include:
Mobile app for sending campaigns on-the-go
Drag & drop builder with a template reference
Collaboration options like multi-user accounts

GetResponse helps you boost profits by getting customers to sign up for your email list. For instance, utilize the 500+ templates and drag & drop form builder to create a standout opt-in form, include free stock images, and even make things more personal with GetResponses's dynamic content feature.
Additional features include:
Autoresponders based on user behavior
Segmentation for targeted email campaigns
99% deliverability rates

AWeber caters to businesses of all sizes and offers a wide range of tools. For example, send out customized newsletters, choose from over 700 mobile responsive and ready-made templates, and secure a series of autoresponder emails depending on user behaviour.
Additional features include:
Automatic emails of new blog posts
Easy management of subscriber list
Audience segmentation campaigns
Email Marketing with ARMember
Knowing that you should build a bigger email list is one thing – while doing it is an entirely different thing.
Luckily, ARMember comes ready to help you create beautifully customized email opt-in forms that work with any of the above-mentioned email service providers.
Step 1: Activate Forms
As we have mentioned in the past, ARMember does not automatically activate all available modules in order to preserve server resources and reduce strain on your website.
That's why the first thing you need to do is navigate to ARMember > Add-ons to activate your Opt-ins add-on.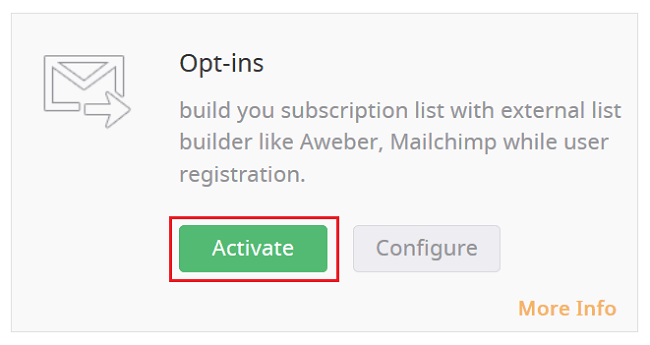 Step 2: Create Forms
Next, navigate to ARMember > Manage Forms to create a customized opt-in form.
Start by selecting Add New Form from the Registration/Sign up Forms section.

Title your form and select whether you want to clone form fields from previous forms that have been created (recommended) or start from scratch with a blank template.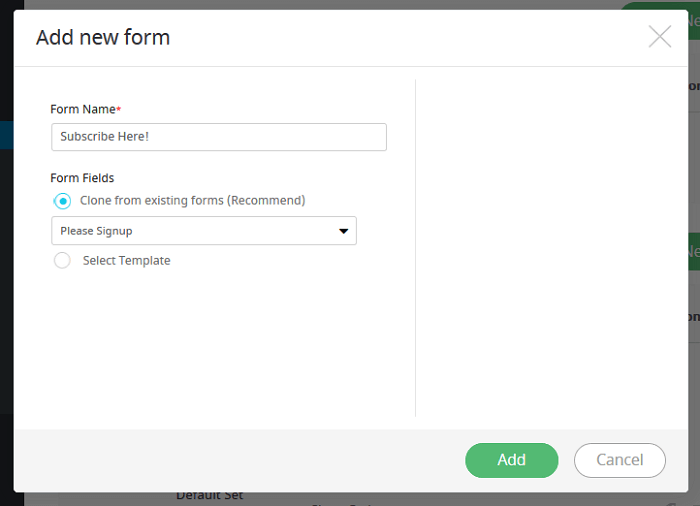 Step 3: Customize Your Form
Customizing your opt-in form with ARMember is a breeze thanks to its intuitive interface.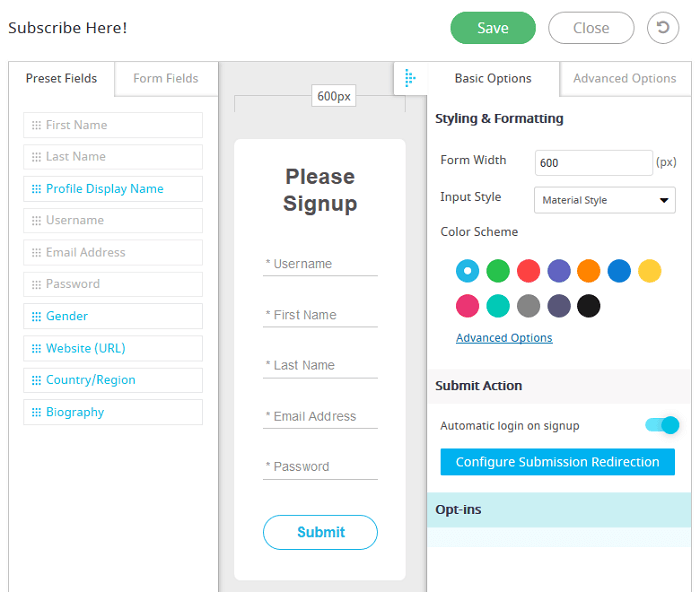 Drag & drop any fields you want to include on your form, select a colour scheme, define form width and input style, and even enable automatic login upon signup.
Additionally, take advantage of advanced customization options such as font styles for labels and buttons, and even add custom CSS if you want.
Save all changes when you are finished.
Step 4: Link to Your Email Service Provider
Once you have created your signup form, verify your email service provider API so you can connect it to your opt-in form.
Navigate to ARMember > General Settings and click on Opt-ins Configuration. Here, you can enter your service provider API key.
Not sure how to do this?
ARMember has a great article here showing you exactly how to do this.

After verifying your information, navigate back to the form you just created.
Notice the opt-ins section now has MailChimp available to choose from. Simply choose which list you want this particular opt-in to add subscribers to and save your changes.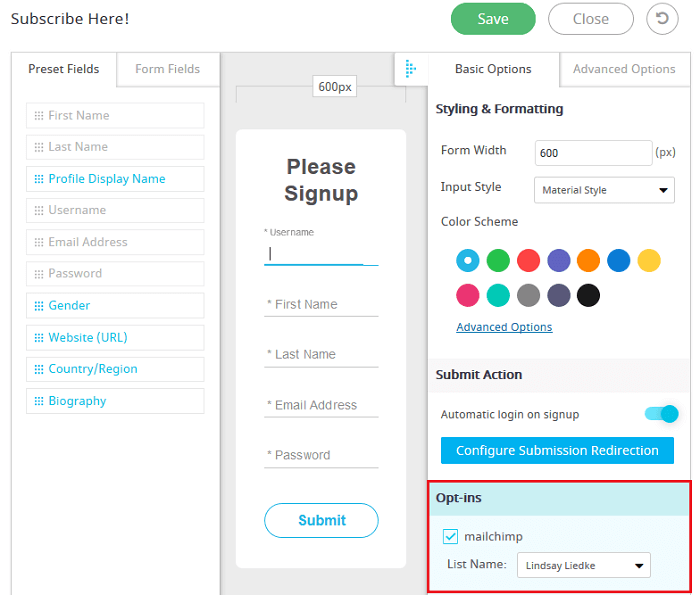 From there, cut and paste the form shortcode found under ARMember > Manage Forms and place it anywhere on your website you want site visitors to see it.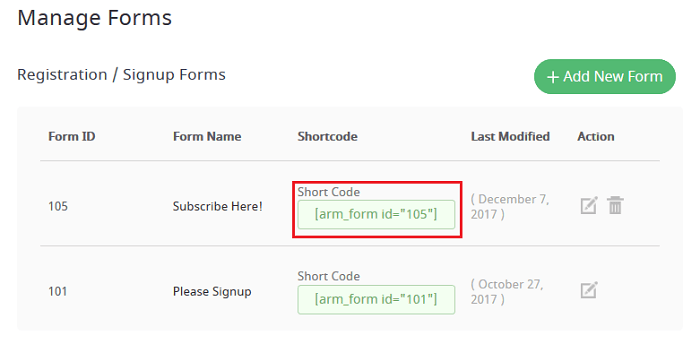 You now have an active opt-in form on your membership site that encourages site visitors to subscribe.
Final Thoughts
If you underestimate the power of email marketing, you are doing a huge disservice to the potential your business has to grow and succeed. People still love email and want to know what is happening with their favorite brands.
Take advantage of ARMember's ability to integrate email service providers and start campaigning to new and loyal customers alike. From there, build a bigger email list, expand your business reach, and garner more sales in the process.
Have you used ARMember's email opt-in forms yet to build a bigger email list? I would love to hear all about it in the comments below!