5 Essential Affiliate Marketing Tools and Software Solutions in 2023
July 3, 2021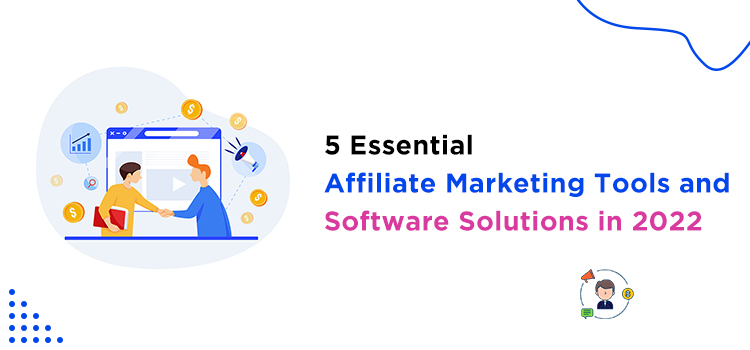 One of the best parts of affiliate marketers is that they can set their work schedule as per their time availability from any part of the world they want to!
That's something cool as top affiliate marketers work at their convenience without any obligation!
Even though they have this fantastic option to live their life to their fullest, due to the increasing number of digital marketing, there remains a tough competition to break the glass ceiling for consistency in the affiliate marketing business.
Having said that, on a positive note today the affiliate marketers are competing with top-notch businesses.
To have stability and stand out from the competition, a pro affiliate marketer needs to make utilization of some popular marketing tools.
So, here in this article, we are going to discuss the affiliate marketing tools you would need to make a consistent recurring income and revenue commission.
Let's Begin!
First, let us understand why Affiliate Marketing is Essential?
At first, It can be a daunting thing if you are new to the affiliate marketing stuff as starting up with that is always challenging.
Affiliate marketing offers a higher opportunity to get more advantage than the traditional startup businesses.
Here's the list of the actual benefits for you to have a look upon as far as affiliate marketing is concerned:


Minimal Investment – Without even spending extra bucks, you can easily start up your earning flow with affiliate marketing. All you need is to set up your website and to dedicatedly invest your time in that.


No Physical Storefront or Shipment Location Required – The best part of being an affiliate marketer is that you don't need any physical business location, invest in the inventory, or even you don't have to worry about the shipment process.


Generating a Passive Source of Income – One of the added advantages you get by being a renowned affiliate marketer is that you could be easily able to earn a passive source of income. After setting up your website, you can easily start earning profit with fewer efforts.


Doesn't Require the Support Team – You don't require a support team, you can simply manage your website on your own.


Flexible Working Hours – You being your boss have the complete freedom to set your working schedule at your convenience.


Ability to Captivate the Worldwide Marketplace – Affiliate marketer can have their target audience from any part of the globe. You are free to choose your best suitable marketplace.
There is other beneficial stuff you can have with affiliate marketing like promoting digital products, physical products,
membership
, and various services from any part of the world.
Further, let's move on to some right kind of tools for your affiliate marketing journey.
CJ Affiliate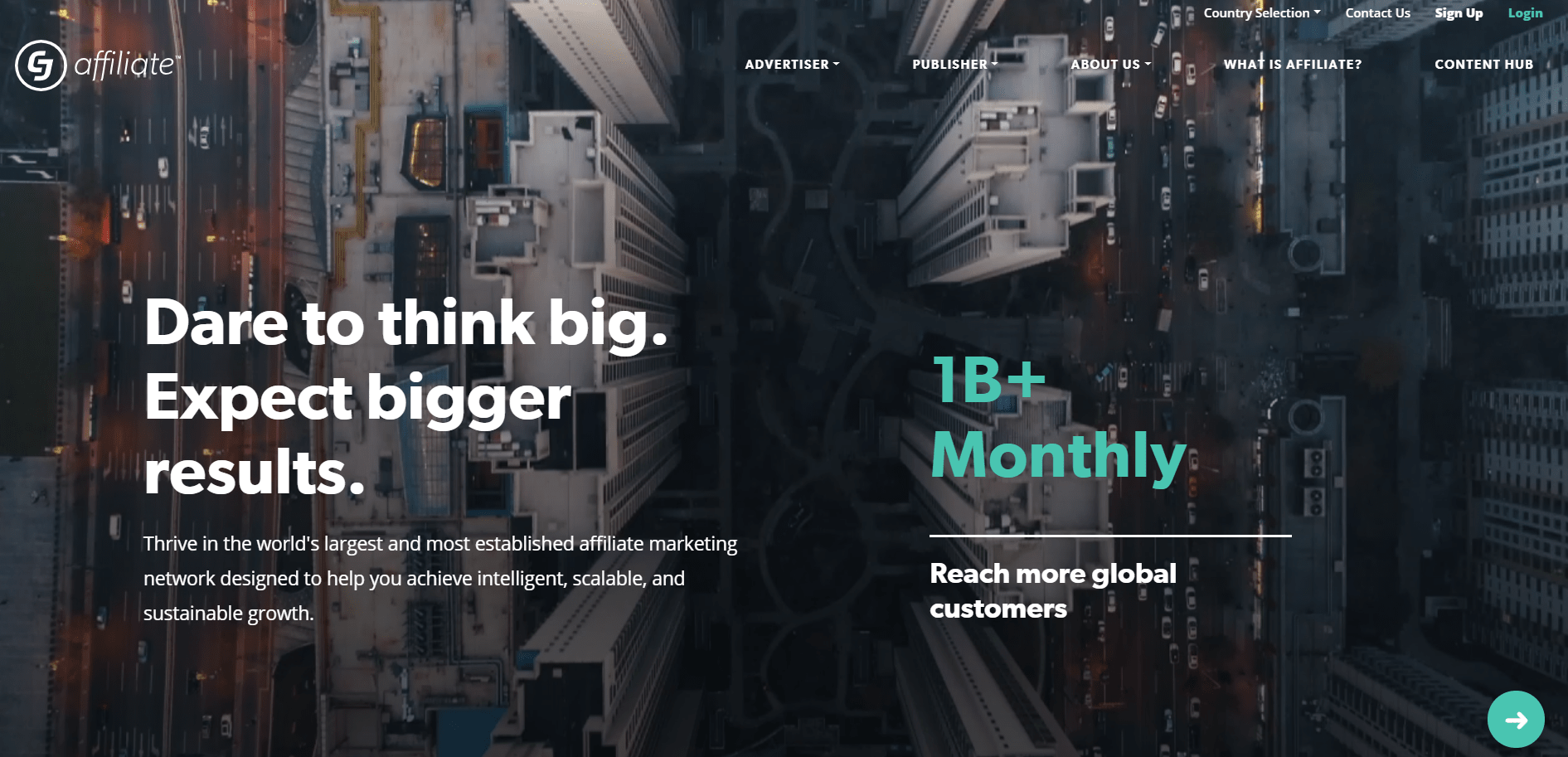 CL Affiliate
as they claim is the best affiliate marketing network by Comission Junction LLC that is specifically designed to scale up and boost the businesses.
As trusted by the world's largest brands, CJ Affiliate is a great affiliate marketing platform for building affiliate partnerships. It offers you to expand your business reach to earn more commission by partnering with the world's best brands and effectively promoting their products or services.
CJ Affiliate is a powerful platform that can build bridges between
publishers
and
advertisers
within their booming network. This amazing platform works on the realistic CPA (Cost Per Action) based approach where the publishers only have to pay for users who get converted into a potential lead.
Further, CJ Affiliates can prove to be a great gateway for the affiliate marketers who wants to establish their affiliate business as they can make it easy for affiliates in any type of niche to benefit from the plethora of affiliate programs through CJ Affiliates.
Pretty Links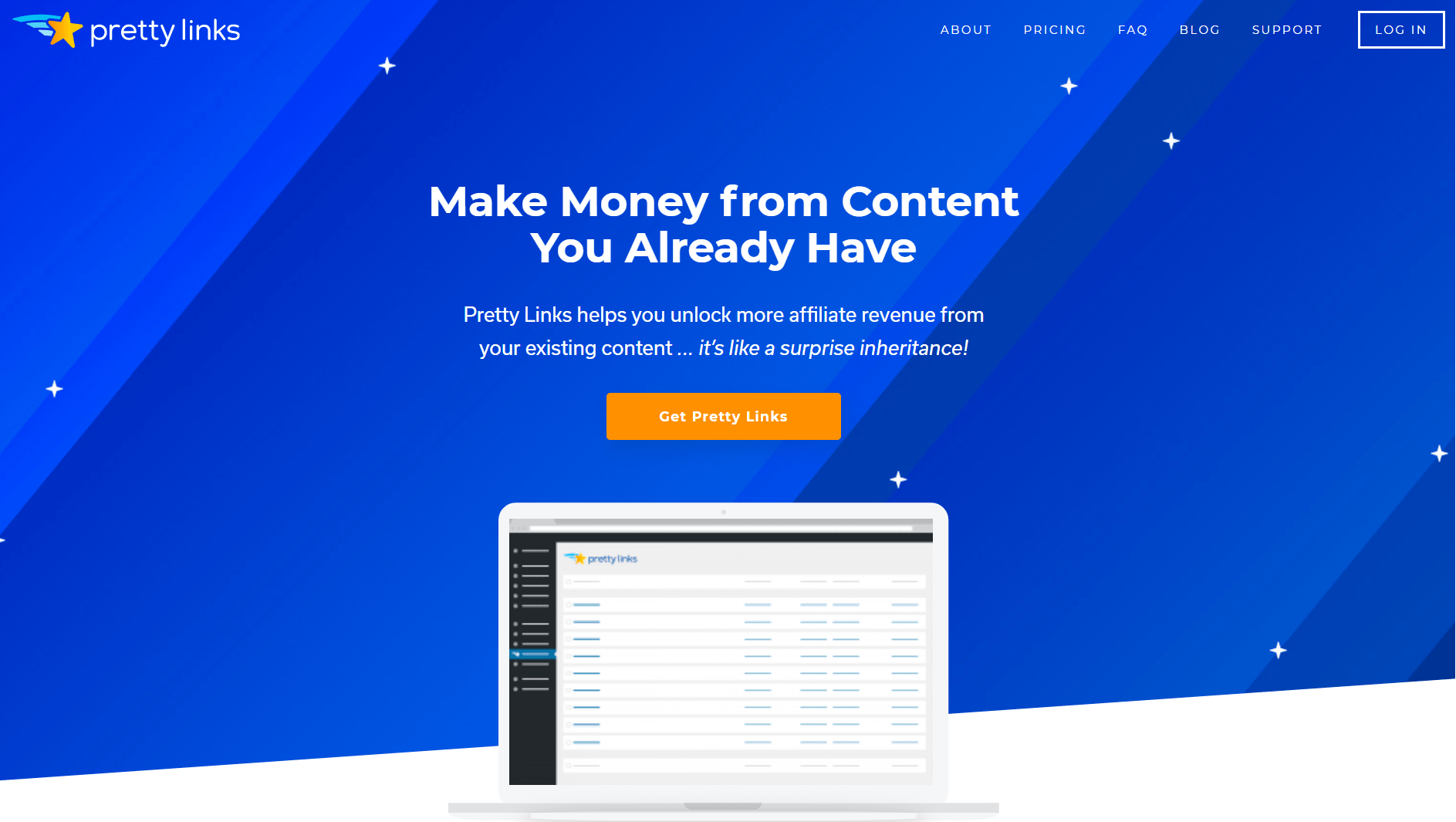 Pretty Links is an affiliate marketing tool that can help you gain more affiliate revenue from your content. The best part of the Pretty Links is that, if you have your website built with WordPress, then your added affiliate links will be placed through all your content automatically.
What's even more interesting is that Pretty Links tend to analyze all your website content and place the affiliate links for the keyword phrases you want.
If you want to promote affiliate offers for a video or podcast, then Pretty Links can turn the lengthy affiliate links into clean, simple, and completely sharable links. Further, you can insert affiliate links in the Gutenberg editor as well.
The pricing for the Beginner plan for Pretty Links starts from $49/ year for a single WordPress website usage.
Post Affiliate Pro
Post Affiliate Pro
is an outstanding affiliate software tool that can help you manage and track both the affiliate programs and networks at the same time.
This awesome affiliate software offers you a powerful dashboard for affiliates and merchants where you can have a track of the commissions, manage campaigns, and have a check of the multiple reports as well.
Post Affiliate Pro has easy integration with any website or shopping cart regardless of the CMS you use as it supports over 170+ CMS and payment gateways.
Apart from that, the customer reviews are amazing. It is the top-rated platform backed by a 5-star rated customer service team. Isn't that amazing?
If you want to give it a try and want to start your affiliate program, then Post Affiliate Pro offers a
14-Days free trial
after which if you make up your mind to go for the paid plans, then the Pro plan for Post Affiliate Pro starts from $97/month onwards.
Affiliate Future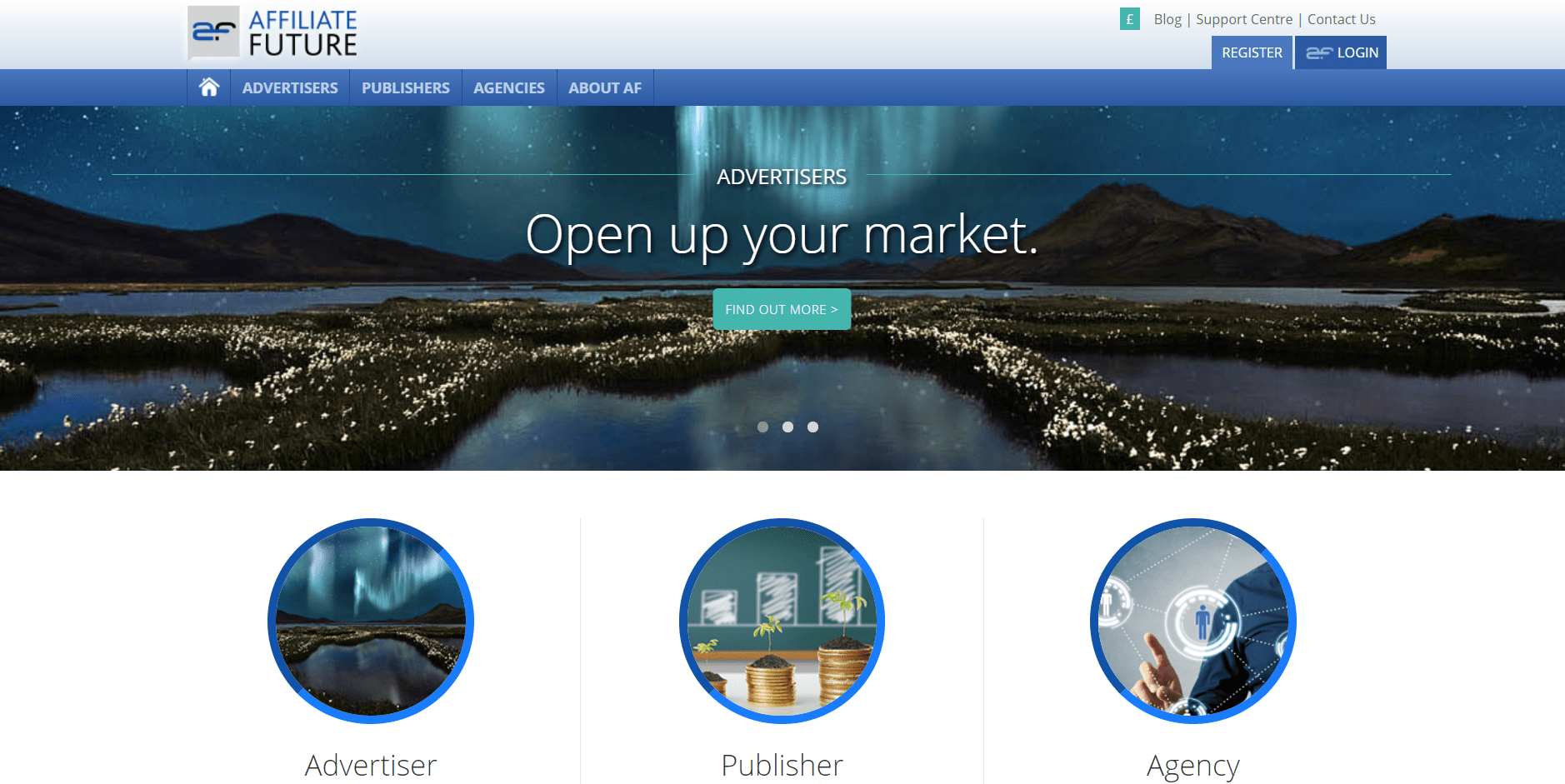 Affiliate Future
is a prominent affiliate marketing tool that has over 300k publishers and more than 600 advertisers with a global reach is what makes it stand out.
So, if you are looking to increase the revenue for your website, then with the Affiliate future platform it could be easy for you to scale up your revenue by leveraging their affiliate networks by enhancing the sales of your niche-related product/services from the reputed brands.
LeadDyno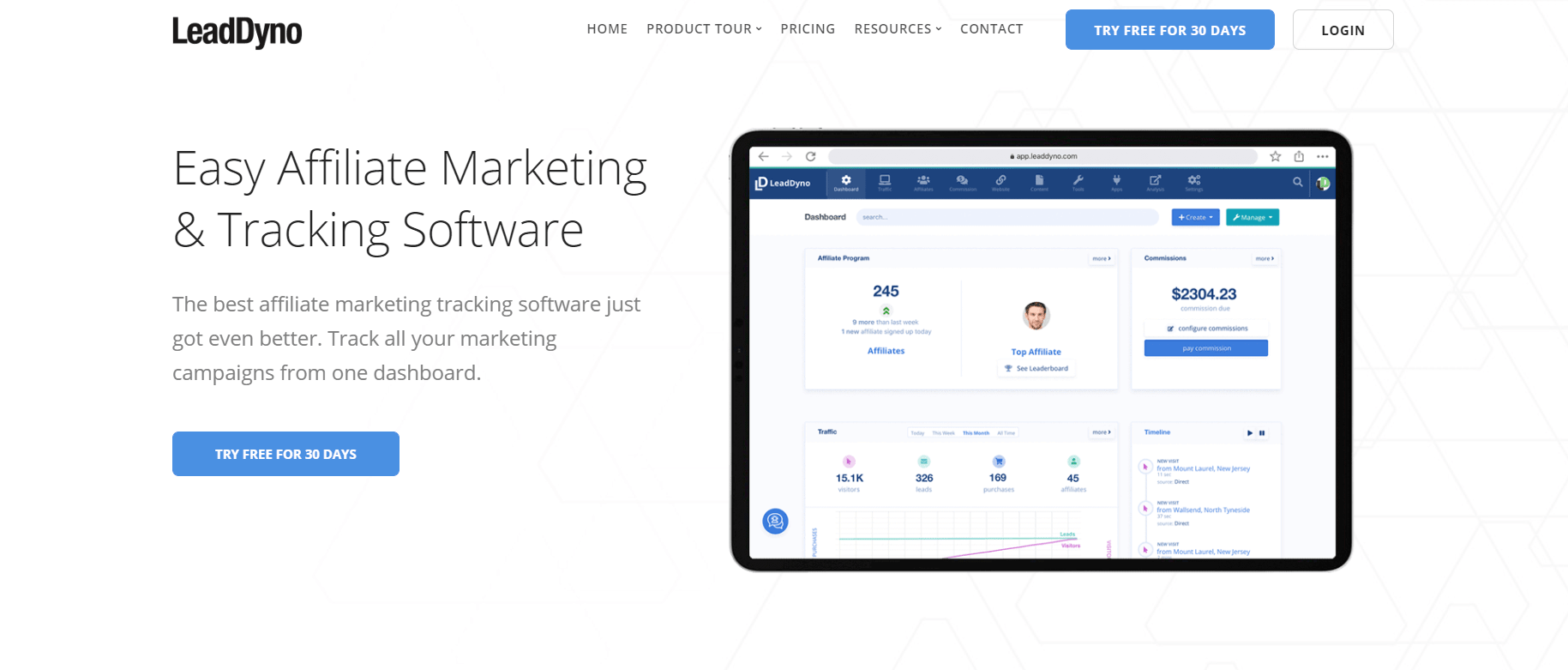 LeadDyno
is a renowned affiliate marketing tracking software that can help businesses who are looking to launch their affiliate campaigns.
With LeadDyno, starting an affiliate program has just got simpler as it can help you start rewarding the affiliate marketers for promoting the product or services.
This software is specifically designed for businesses of all sizes. LeadDyno provides access to the custom affiliate dashboard to every new affiliate.
LeadDyno allows easy integration for most popular CMS platforms, e-commerce, marketing, and payment platforms. When it comes to pricing the starter plan for LeadDyno can cost $49//month for websites up to 3k unique visitors per month.
It also offers 30 Days Free-Trial access to get good hands over this amazing affiliate marketing and tracking software.
Final Verdict
With such robust affiliate marketing tools, you can rest assure about boosting your affiliate marketing overall revenue.
You can select these affiliate marketing tools based on your interest as some of them are best suitable for businesses and enterprises whereas others like Pretty Links can be pretty much useful for affiliate marketers.
Leave us your valuable comments below for which of these tools are you using or planning to use for your affiliate marketing success?
Click here to read the latest blog:
8 Crucial Things you must do before changing a WordPress themes