How to Set Up Affiliates on a WordPress Membership Website
September 19, 2019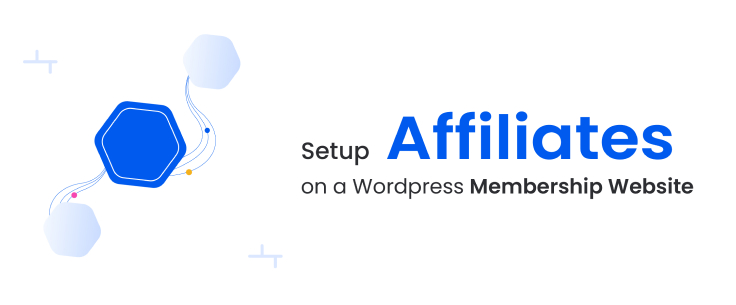 Let's talk about how you can attract more clients and
make more money
with your WordPress membership website built with the
ARMember plugin
.
We're going to take a closer look at the model which runs on the affiliate earnings. Why?
Because the affiliate marketing method is probably one of the most beneficial and effective ways to win more clients
without daily efforts.
If you are
not
familiar with it, however, the main idea of affiliate marketing is simple: reward affiliate partners (those can be anyone ranging from your current membership users to independent bloggers) for each visitor or customer brought by the affiliate's referral links.
In simple words, affiliates earn a commission - you earn a new client (hopefully, a
recurrent one
).
And if you start making efforts and planning out your own affiliate program today, who knows, in a month you could get your first clients brought by referral links.
Planning and marketing are actually the most difficult things.
The tech side and implementation of affiliates is the easiest part, though.
Since you can run the program with a fully-featured, ARMember-native membership
WordPress Affiliate
plugin, we believe it won't take more than an hour to set up the affiliates system within your membership project. Invite as many partners as needed, the addon doesn't limit you in this aspect.
We should also emphasize
that it's much more beneficial to use the ARMember-native addon
because this way you gain all related tools consolidated under one roof, don't need to bother about updates from different plugins, and pay much less money that you would need to normally spend on third-party tools.
Let's clarify the basic WP affiliate plugin lingo before we proceed:
Affiliates
- your "partners" who bring new clients (they get a commission). You can add them manually to the WordPress dashboard or select from the list of the already existing users.
Referrals
- your new clients, bought by affiliates's referral links.
How to Set Up Affiliates on a WordPress Membership Website
Let's take a closer look at the affiliates marketing framework for the ARMember plugin.
To get started, you need to purchase, install and activate the
Affiliate ARMember addon
. It'll bring you a whole set of features and tools (
ARMember Affiliate > Settings
). Let's structure them in the straightforward way.
How to set up overall settings and referral links
The addon system needs to know when to treat a link as sponsored (affiliate), so you need to firstly set the general Affiliate URL parameter and referral URL. Some other important settings include:


Automatically or manually confirmed referrals by setting a default referral status (e.g. pending, accepted or rejected).


Configure cookie settings.


Set the sum of money you pay if a user subscribed without any specific plan.


Allow referrals to renew or change plans.


Decide whether you want to pay a referral commission just once or each time the user renews a plan.


Create affiliate links automatically upon a new registration.


Many other things to tailor the behavior of the affiliate system.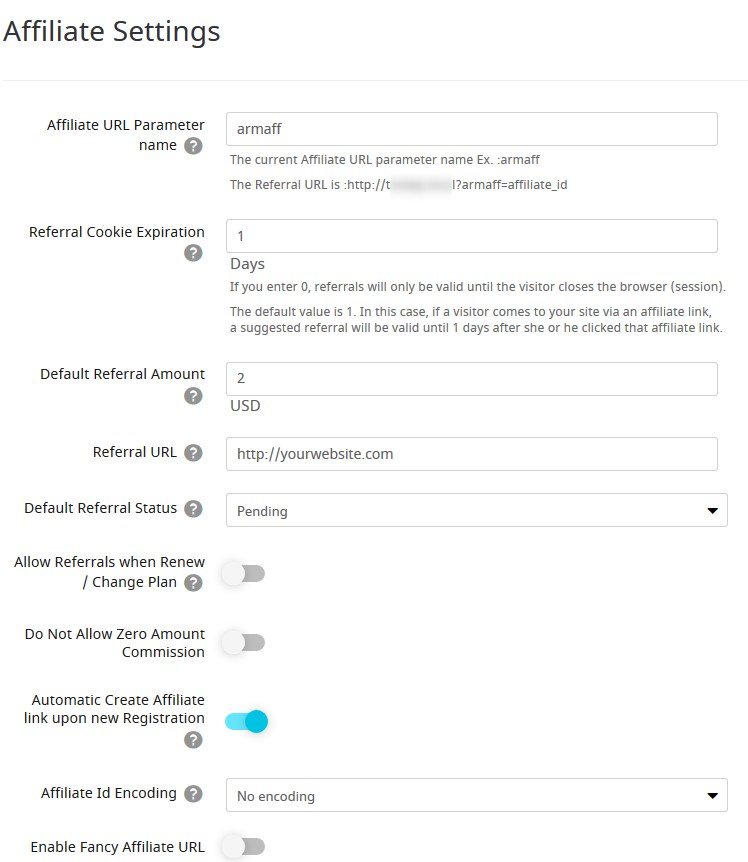 You can also
customize the look of the affiliate subscription website form
by setting the overall style and customizing fields.
The form, as well as ARMember Affiliate-related content elements, is added with the shortcode.
How to add and manage Affiliates
To add affiliate partners, you need to either choose a user from the list of available ones or add a new user manually (add them first via WordPress Users).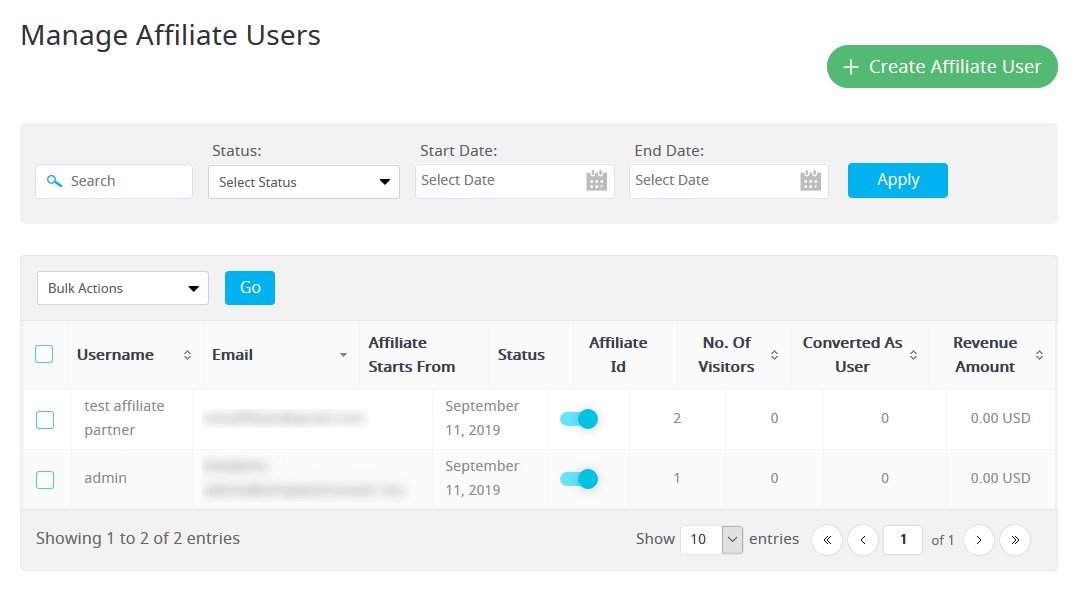 In the same "Manage Affiliates" menu, you can use quick filters to search for the needed user.

All the important data (user status, affiliate Id, number of visitors, converted as users and revenue amount) can be viewed in the table.
How to manage Referrals
When there are referrals, you can view and manage them through the "Manage Referrals" addon's menu. All the essential details are also listed in a table format: you can preview an Affiliate user, commission amount, their membership plan, reference user, date of subscribing, and a current status.
You can accept, reject, delete or even edit the referrals amount of commission.
The system stored data on referrals and affiliates can be exported in the Excel spreadsheet.
Customize affiliate commission settings for membership plans
To configure these settings, you need to get back to the core
ARMember plugin > Manage Plans
and choose the needed plan. Or, alternatively, do the same via the "Manage user commission" menu in the Affiliate addon.
Here you can set the following options:


Enable affiliate referrals and apply the commission settings (fixed or percentage).


Do the same for the recurring payments.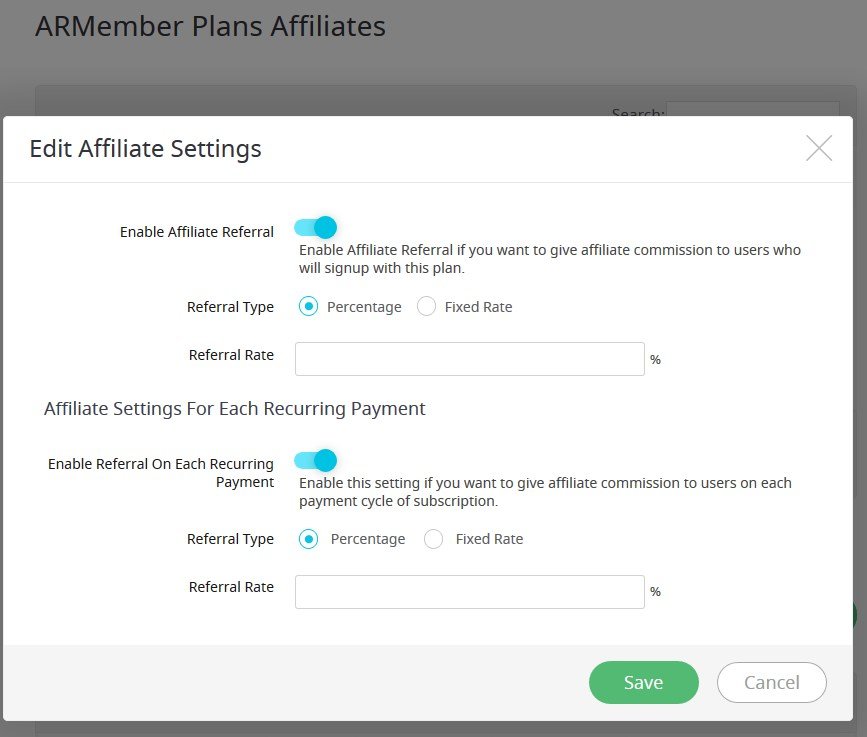 You can even set separate commission for specific Affiliate user.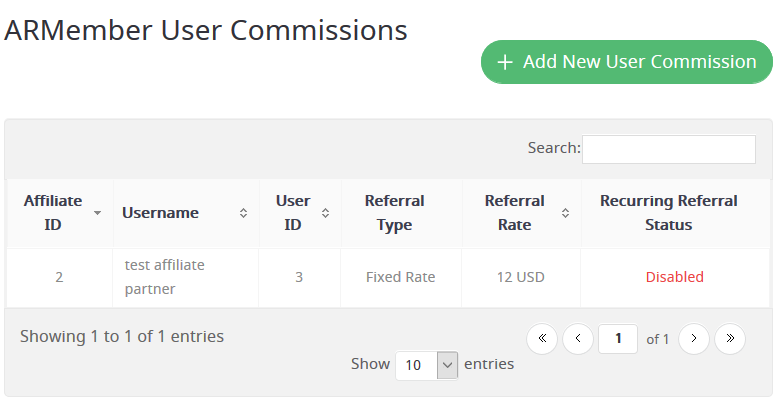 How to make payouts
To manage payouts, go to the respective addon menu. Here you'll see the upcoming payouts in the table format. Each payout is listed with the affiliate-related details (the user) and the commission-specific things (total earnings, paid amount, due amount).
You can view the overall payment history and change payment status once you paid a client.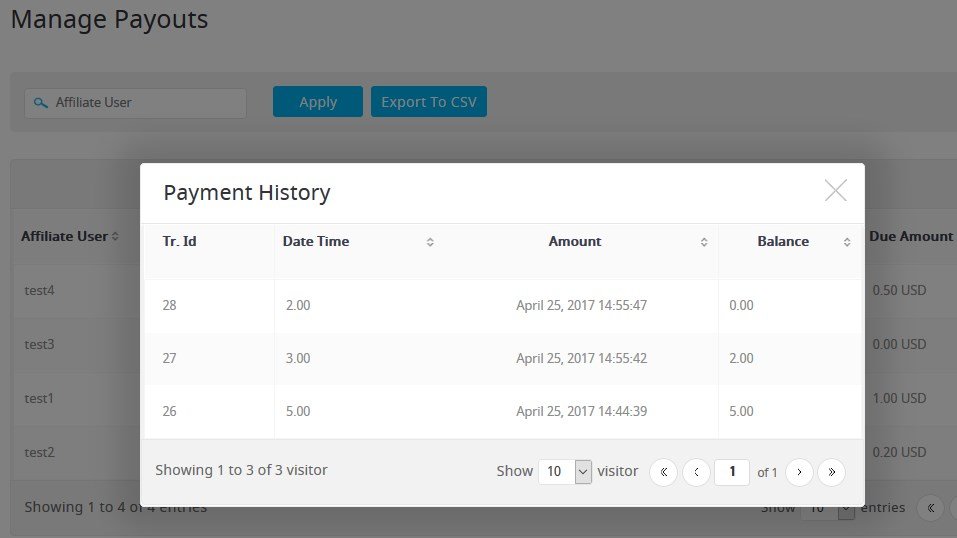 If you integrate WooCommerce with ARMember, affiliates can also get commission on each referred WooCommerce product or service.
Enable affiliates to use promo banners
Help affiliate users promote your membership better by allowing them to use promo banners or text links.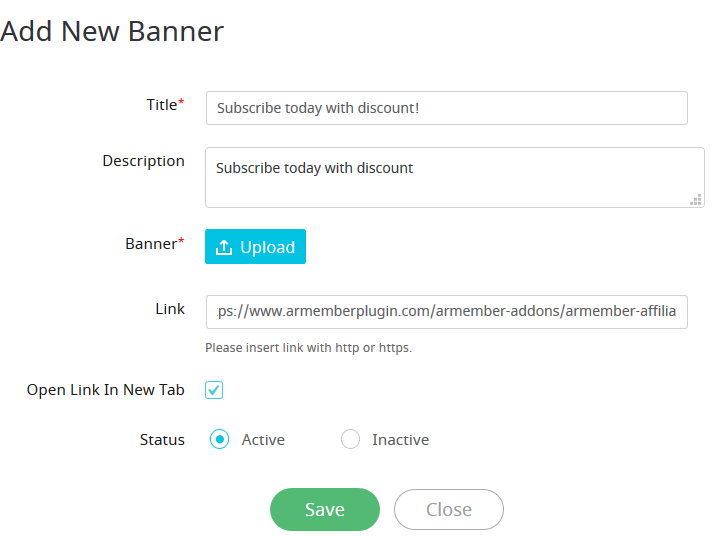 Once the banner is added via your dashboard, the shortcode for it is automatically generated. Affiliate users will have access to banner and link shortcodes in their accounts and will be able to place them anywhere on their websites.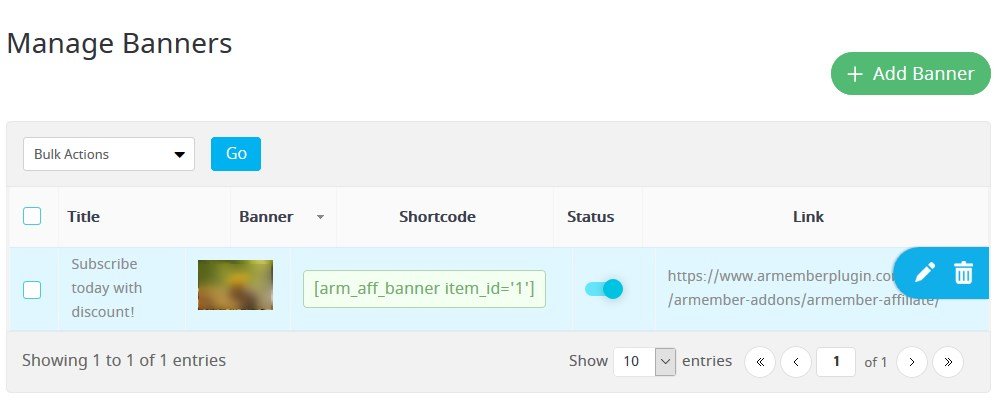 How to track overall statistics
See how your affiliate program performs with a detailed statistics system: it pulls data on overall earnings, paid and unpaid commissions, the number of visitors and referrals, etc.
You can filter this data by a user, date and a membership plan, so you can have a better vision of how to further plan your marketing strategy.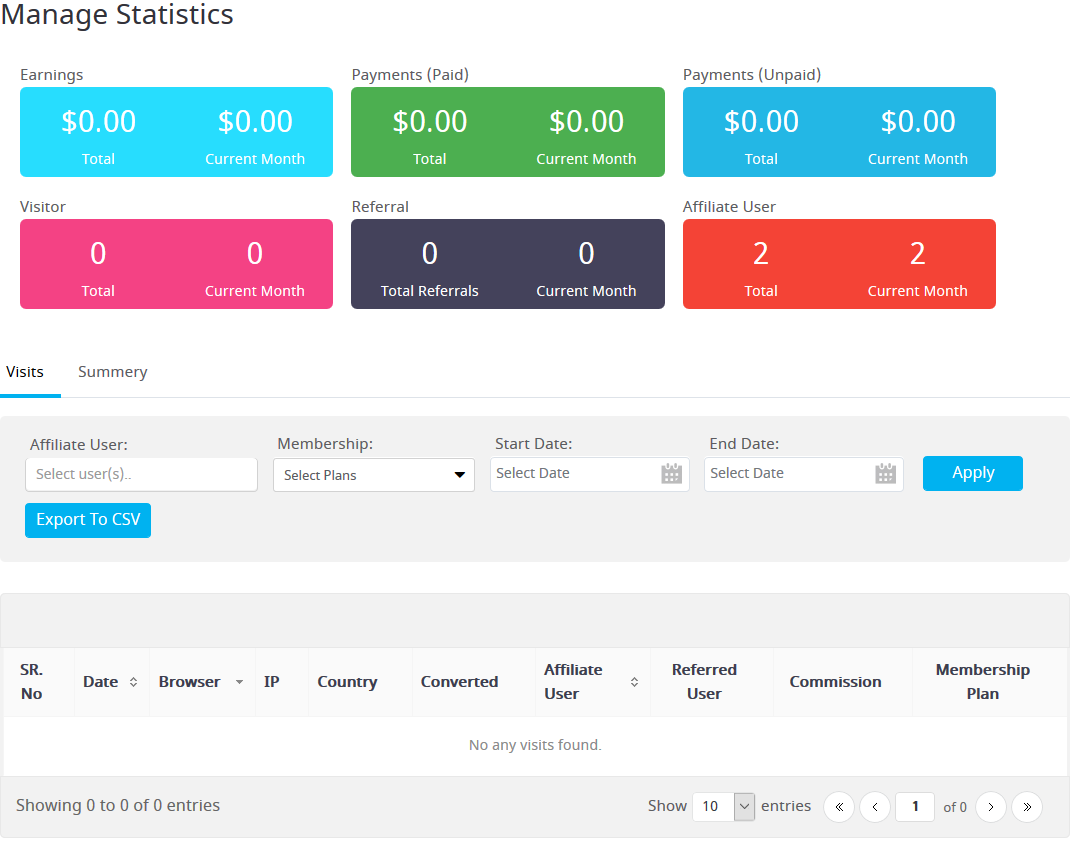 Migrate affiliate accounts from AffiliateWP or Affiliates Pro
If you have a database of affiliate accounts with these popular plugins and want to migrate them to ARMember, use the addon's migration tool for a smooth procedure. However, make sure to do that before you start using the ARMember Affiliates addon.
Don't procrastinate - run WordPress Membership Affiliates ASAP
So if you want to truly understand what it means to earn money while you sleep, take the
ARMember WordPress Affiliate
plugin for a Membership website for a spin.
It takes care of all the complex moments and presents easy solutions with a flexible and feature-rich framework for affiliate marketing on your WordPress membership website. You just need to go through a few button clicks and let other people do the job.