Guide for WordPress Permalinks to Enhance your Website Structure
August 20, 2020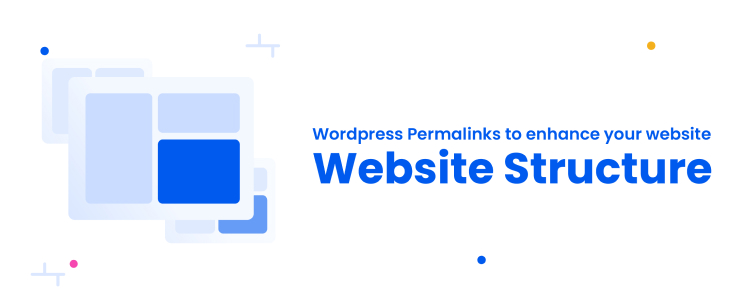 Permalink is the permanent link that is being used with the complete
URL
you make use for your page, post, or the custom post type for your WordPress website. In WordPress pages and posts, while you keep editing the URLs suffix, which is known as
SLUG
– For instance (www.domain.com-seo-friendly), then one thing that you should always keep in mind is to make use of SLUG with the right kind of key phrases. For that, you should always keep your permalink SEO-Friendly! Best of all, your permalink should be structured for SEO (
Search Engine Optimization
) If you want to find out how the permalinks can be structured for SEO? Then, this article will drive you through a step by step guided way to create a URL structure for permalinks! First off, let's understand its importance!
Importance of Permalinks
As part of a web address, permalinks are useful to give a glimpse of a brief understanding of what your website page or post is about to the readers and visitors of your WordPress website. Now, let say, for example, if you want to make your page or post of your WordPress website visible on the search engine alone from the URL, then you should keep the best practice of applying the right permalinks to help search engines identify each piece of content you create. In simple words, permalinks are the best way to recognize what your page or post is about simply by looking from the URL. For most of the well-established websites, permalinks play a very vital role in boosting the SEO performance as they are pretty much helpful in indexing the pages and posts of your website. Further, we will discuss the types of custom permalinks URL structures and their usage in a step by step way. Let's jump to the list
WordPress Custom URL Structure for Permalinks
Fortunately, when it comes to WordPress, it allows you to create a custom URL structure for permalinks that can help you to improve your links structure in so many ways. WordPress makes it pretty simple to optimize and change the permalinks of your website. First, you need to navigate to the WordPress dashboard from the WordPress admin panel of your WordPress website. If you want to set up the permalinks, you need to go to the
Settings > Permalinks.
At there, you will be provided with the number of options to select from. The first and foremost option you will see is the
Default
options:
Default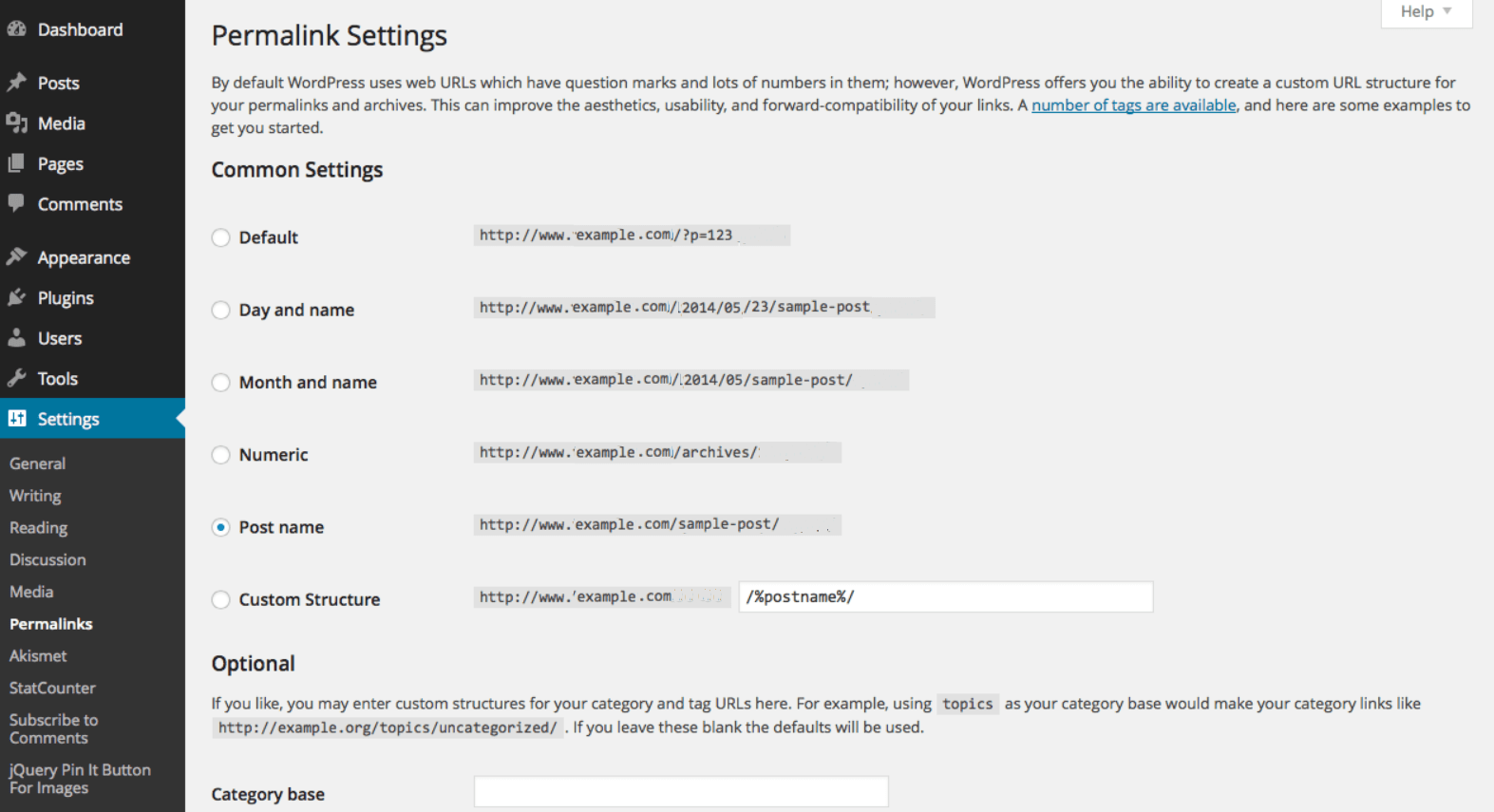 When you first create and build up your WordPress website, your permalink structures come with a simple plain structure by default. It directly comes with a default format that shows the query string with your page ID or post ID after your domain URL. For example:
https://www.example.com/?p123
Pro Tip:
You should always keep the best practice of changing your default permalinks structure with an SEO-friendly permalinks.
Day and Name
Next to the Default option, you will be able to see the Day and name option that can be used to sort the post name tag, generally used for the blog posts where you require to show the published date with the Day, Month, and Year format to display when your content is published on your WordPress website. It is a handy option for WordPress websites that publish a lot of blog posts. Let's say, for instance, News article websites. For example:
https://www.example.com/2020/07/08/sample-post
Month and Name
This type of permalinks is most commonly used as it shows the Month and name (Excludes the Day). These permalinks are even better in terms of SEO as it provides fewer characters of its generated URL and is shorter URLs than the Day and Name. For example:
https://www.example.com/2020/07/sample-post
Numeric
Numeric shows your post ID and the archive, which means a post in your news category would be displayed with the numeric ID. For example:
https://www.example.com/archives/456
Post Name
Post Name is by far the most widely used permalink structure tag used in the WordPress blogging websites. The simple reason behind using this option is that it provides the short URLs that can easily be remembered by the readers of your WordPress website. It can prove to be the best choice if you have your blog posts published with the content relevant to last long and where you need to update it continually. For example:
https://www.example.com/sample-post
Custom Structure
Further, if you want to customize your permalink structure and need to generate a custom permalink with your choice of
structured tags
, then WordPress allows you to create permalinks of your choice such as %category%, %postname%, %post_id%, %author%, and more for your WordPress website Let's say, for instance, you are about to make a series of category related blog posts for your WordPress site. In that case, you will require to add
%category%
from the
custom structure
of your permalink settings.

On the flip side, if you want to
add categories
and sub-categories, you can easily do that by navigating to the
Posts > Categories
option from your WordPress admin panel.

Ultimately, when you have a blog post selected with the selected category, then the URL of your job would include that category as a suffix after your domain URL. Let's say, for instance, if you have a tech blog post published with the selected category of
Gadgets
, then WordPress will consider
gadgets
in the URL. For example:
https://www.example.com/gadgets/blog-post-name
Custom Permalinks that includes categories and sub-categories for your blog posts URLs are more SEO-friendly. It would help search engines better index your URLs when they are correctly categorized. Further, while structuring the permalinks for your WordPress website, once you change the structure of your permalinks, then every piece of content where you have external links or internal links for the previously used URLs would be seen as broken links after that.
So, what is the better solution for that?
Moreover, if you don't want the hassle your WordPress website pages redirection and to set up the
301 redirects,
then use plugins like "Yoast
SEO WordPress plugin
" and "Permalinks Manager" that would help you with the custom permalinks, taxonomies, and custom fields if you go for their premium plan.
Final Thoughts
Finally, when everything said and done, you should choose a relevant WordPress permalinks structure and use them with the proper format. We recommend you select the permalink structure that fits best for your WordPress website and the one that is relevant for your website SEO performance. Have you tried any of the permalink structure mentioned above? Or have you found one of the permalink structure better than the other? We would be glad to hear your thoughts and ideas, leave your valuable comments in the comment box below!