9 of the Impressive Ideas for Highly Scalable Membership Business Websites
October 16, 2020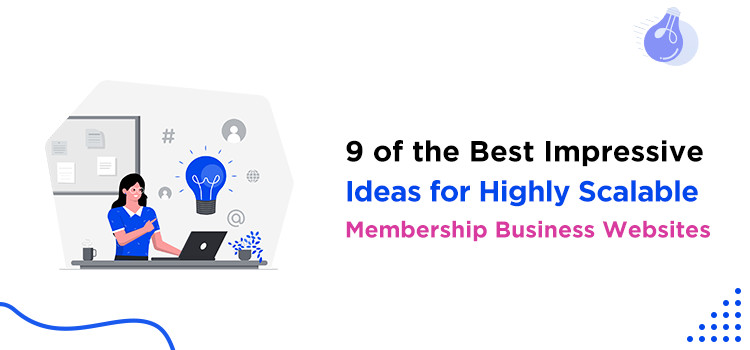 In recent times, many of the folks have been successful entrepreneurs after they went for the crisis, this is after they realized their key strength and to transform it into something that worth their entire life.
Highly Scalable Membership Business Websites
Having said that, when it comes to membership businesses, to make it happen, you need to have a super solid plan to know what kind of topic and niche you need to focus on, making the right type of marketing plans, and figuring out the
best membership models
that work best for your membership business website. At some point, initially, a question of why should you start a membership website and what CMS platform would work best might have come into your mind! Above all, even starting up with a new business itself is a huge step! But luckily, in this tech era, you can get a better business growth opportunity when you have your membership website built with WordPress which can help you to make a more sustainable business without any hassle and complexity. Let's first understand, what exactly is a membership website?
What is a Membership Website?
In a nutshell, a membership website is where you can reveal the gated content of to your different levels of members (paid members and free members). Just imagine and think of it where you are offering online learning and tutoring course where your premium content is placed and protected behind a member's login page for a particular premium plan. A membership website can have both free and paid members. Apart from that, what is even more interesting is that, with the membership website, you can charge your members with recurring plans like (Daily, Weekly, Monthly, Quarterly, Yearly, or a lifetime payment). Hence, with that, your paid members will require to pay for their recurring plans to keep their paid membership account active and get access to your premium content. On the flip side, a membership can consist of protected content in the form of either in text files, audio files, video files, image files, or even in the form of
PDF downloadable or digital downloads
.
Such is the beauty of a membership website!
Further, we will discuss the reasons to start a membership website for WordPress.
Reasons to Start a WordPress Membership Website
Now, as the online membership businesses are emerging day by day, if you have enough of the skills which can prove to be a great value to the people, then surely it's time for you to make a realistic approach and focus on starting an online membership website. Back and forth, when it comes to starting a membership website, then you ought to make a sure bet on building your membership website using WordPress as your preferred platform because it would make it much easier for you to start your membership website. Above all, more experts are willing to show their skills and unleash their expertise to the people around the world! Hence, with the utilization of a WordPress membership website, you got a big chance to build your online business empire by showcasing the stuff that you do best and have skills and expertise in!
Highly Scalable Membership Business Websites
Today, here in this article, we have come up with some fascinating ideas that can works best when it comes to building a great membership website. So, before the clock ticks away, let's just get it to the list of membership business! Let's get started!
Fascinating Ideas for Starting an Online Membership Website Health and Fitness Membership websites
The health and fitness niche membership websites can prove to be more worthy and can be able to generate more revenue stream.
Highly Scalable Membership Business Websites
As every person in one way or the other might be looking for ways for them to stay fit! Why health and fitness membership websites can raise the bar when it comes to generating stable revenue? The answer to that question is simple! As you might, not each person can have the access to things like expensive nutritional and fitness trainers. With that being said, even more, people will find interest if you consider starting up with the membership website related to health and fitness where you can easily showcase session wise modules for health and fitness training course stuff like:
Weight Lifting Techniques
Aerobics or Cardio Training Sessions
Food and Nutrition Guides
Yoga training
Meal Routine Guide
Sports Training Guide like (Golf, Archery tips, Baseball, and more)
Hence, if you have a solid background in fitness, health, and nutrition, and if you want to give access to those skills to more and more people, then it's time for you now to kick start it with your membership website!
Podcast membership website
Starting a podcast can be a great way to consider your membership website if you have something eye-catchy things to cover! Interestingly, more and more people are looking out for the podcast where they want to connect and discuss your episodes, furthermore to engage. Now with the use of a plugin like the
ARMember WordPress membership plugin
, it allows you to protect your Podcast feeds to its best.
Tutoring and online coaching Course
While online tutoring and freelancers are in high demand nowadays, building an online tutoring or online course membership website can prove to be a gem idea as it can help you to build plenty of members who will be willing to pay you for your skills and expertise.
Music, Arts, or Writing Membership Website
Well, if you are a passionate and skillful musician or a creative geek, then creating and running an online membership website could be a sure bet for you to do! Just imagine, if you want to run an online guitar classes, then you can simply show your different guitar learning videos module wise where your members have to subscribe or pay for accessing the advanced level modules.
Highly Scalable Membership Business Websites
Do It Yourself (DIY) Membership Websites
This is yet another great niche that can work like a pro! If you are creative enough to show some great ideas and guides which can be pretty much useful for people in their daily day to day life. Things which they can fix it by themselves like DIY (Do It Yourself) stuff, then just make up that passion into a serious revenue-generating membership website! There are pretty much cool evergreen stuff that you can show it on Do It Yourself (DIY) stuff which would be helpful for people and that they can learn and even apply those skills by themselves at their home. Better yet, there are so many things such as gardening home repair, creative painting, paper crafting, and many more things as such.
Certifications and Online Training Courses
Now, when we speak particularly about this niche of online training course along with the certification, then it can prove to be a great idea to do so if you have mastery and have a certain skillful qualification. Furthermore, certifications and online training courses are one of the most popular membership websites that can help you to make money and grow your revenue while you charge for giving access to your content, training sessions, certifications, and paid courses.
Hobby Membership Websites
If you can bring up your traits and hobbies with some valuable content by providing the tips and tricks in a membership website, then it can be useful for building up a community. Let's say, for example, you can have some effective blog posts and articles where you can offer your premium content by including the subscription offering for your membership website. Apart from that, you might also offer your valuable content in form of video guides, PDF files, and
digital downloads
.
Software Training Membership Websites
Whether you are an expert in some of the most popular software like
Adobe Photoshop
, Adobe Illustrator, AutoCAD, or other, you can show your expertise and skills and help more people learn such software in-depth by offering them the module wise training sessions for several courses like Adobe Photoshop, Adobe Illustrator, AutoCAD and more in your software training membership website.
Stock membership and Template Membership Websites
This is by far the most creative and result-driven membership model! If you have ambiance expertise in graphics designing or creating some stunning templates, then templates and stock membership websites can help get more member sign-ups and even you can have a long time memberships. With a stock and template membership website, you can offer a vast range of your stock photos, videos, and illustrators to your members both free and paid (with a subscription or recurring payment options)
Final Thoughts
Finally, if you are a kind of an expert person who does possess any of the above-mentioned skills or is experienced, then it is the time for you to give yourself a start with your value-driven content in membership website related to your niche. Have you found this article informative and insightful? Any thoughts and ideas that you would like to share with us? Just leave us in the comment section, we will be glad to make it up on our future posts!