Why and How to Use the Digital Download Addon on your WordPress Membership Website
August 2, 2019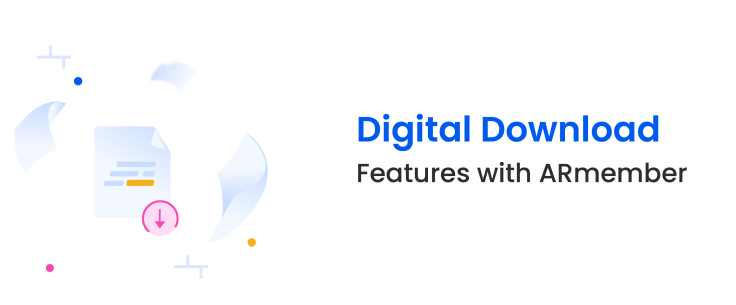 Are you looking for a way to start a WordPress membership website for selling digital products like e-books, various PDF documents, videos or other premium content through the member-only access?
This is the right spot then!
We are going to tell you how to do that in a moment with one of the top used Membership WordPress plugins:
ARMember
and its dedicated
Digital Download add-on
.
In short, you are going to learn how to add digital downloadable products to specific Member plans, control access to files and manage all downloads quite easily and effectively.
However, even if your membership project is not completely focused on paid downloads, it's not a reason to give up this idea completely!
Utilizing digital downloads within your already established membership website can bring new life to your
online business
:


Refresh your paid member's content with new diverse materials and increase the value of your membership project. For example, PDFs usually possess the power of a solid work like guides, books, research, etc. that are worth paying for.


Downloadable files are typically very portable, so you can give your customers a new, more modern and accessible way to experience your content.


By highlighting that a membership gives access to companion downloadable products, you can encourage new customers to buy it.


Should we mention that adding more premium downloadable content green-light you the reason to increase pricing tags of your membership plans?
Now, what does it take to create, add and distribute downloadable products with the ARMember? Let's briefly illustrate the process to help you get the idea.
Note: this is the guide for the existing WordPress websites on ARMember (plugin version 2.0 or greater), who need to grant your paid members access to any files. In case you are just getting familiar with the core plugin, feel free to start
with this guide.
Since the
addon
installation in WordPress is super easy, let's suppose you've already done that so we can move on to the actual settings.
How to add digital downloads to your WordPress membership website
To start working with the files, head to the "Manage Downloads" menus. Here you'll be able to manage downloads and view a detailed history of downloads.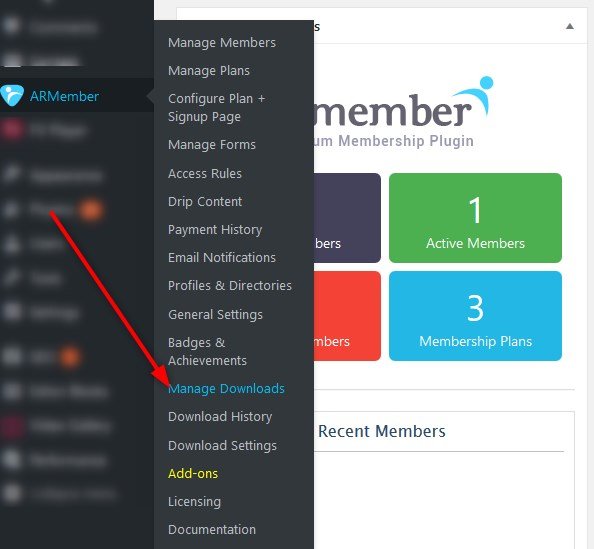 Step 1. Upload files
"Manage Downloads" is your central dashboard. Here you can view a
list of all added
downloadable files and
upload new ones
.
When uploading a new file, you can provide its name and description, check the status of the file (activated or deactivated), upload a file or use an external URL. It's also possible to assign tags for easier file organization.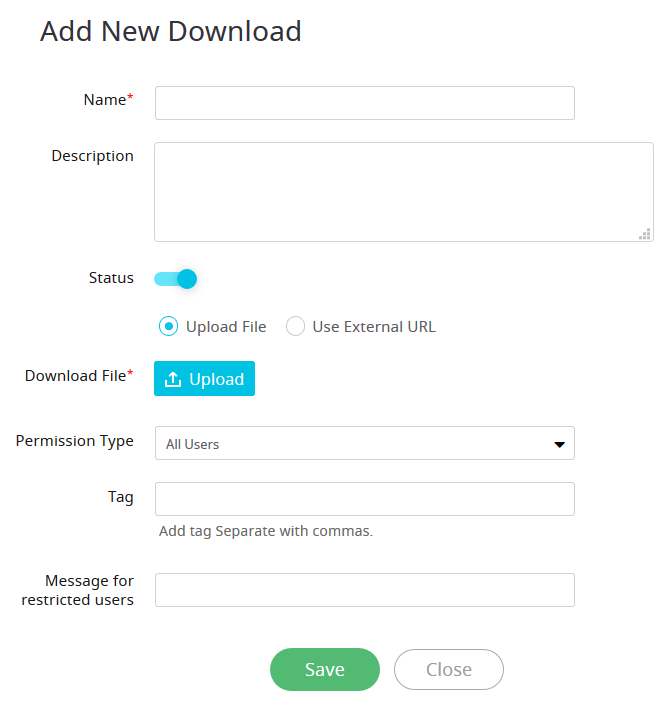 Step 2. Restrict access to digital downloads
To go deeply into the settings of each uploaded file, you are allowed to set the following membership rules: designate a file permission type, select a specific user role permission (grant access to the chosen user roles only), check the status of the file (activated or deactivated), edit or delete it. You can speed up the search of the downloads thanks to easy filters.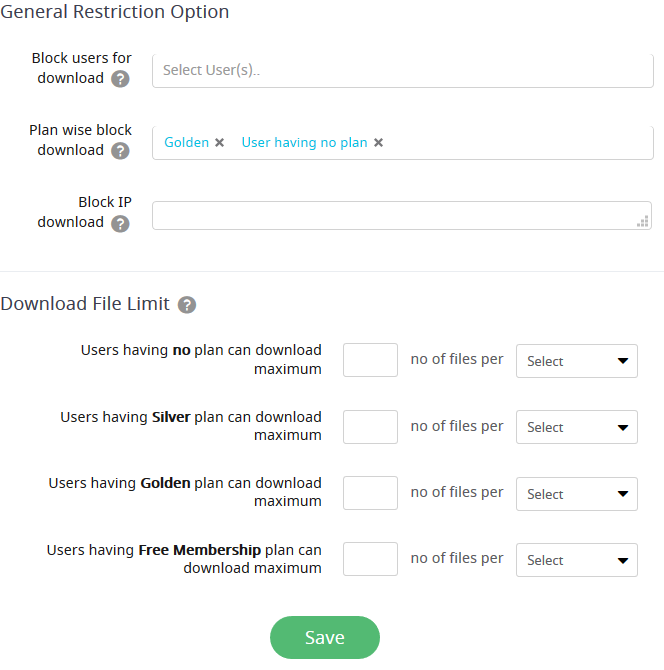 To make restricted members aware of why they don't have access to the file, you can input the needed message for them (another great marketing strategy to lure members to upgrade!).
Each file also comes with a unique shortcode that you can copy and paste into the pages and posts with premium content - it'll appear as a file download button in the member's profile.
Step 3. Designate the general settings for downloads
You can go really deep by setting custom rules for the downloads.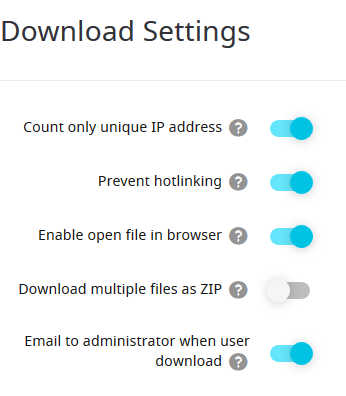 Let's take a closer look at some core settings that allow you to tailor user experiences for your members:


Protect your digital content from hotlinking (e.g. protect your PDF files from accessing by placing them as URLs in the search bar and redirect to your website instead).


Allow files to be opened in a browser.


Allow multiple file download in a ZIP format.


Optionally get admin notifications upon each download.


Restrict members so that they won't be able to download the files: by IDs (specific members), by the membership plan, by IPs.


Set download limits plan and date-wise.


Step 4. Add Downloads to pages and posts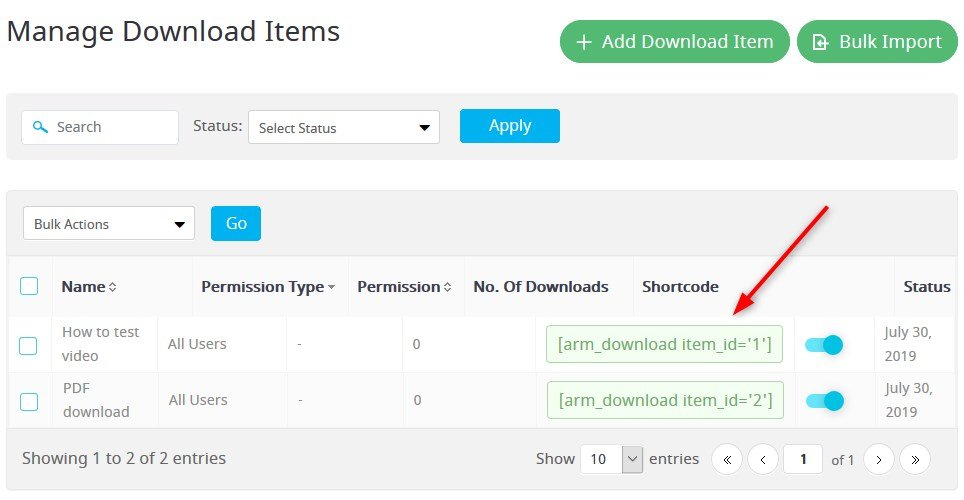 Using automatically generated shortcode, you can paste downloads (a link to download them) anywhere inside premium content in your WordPress posts and pages (works great in Gutenberg).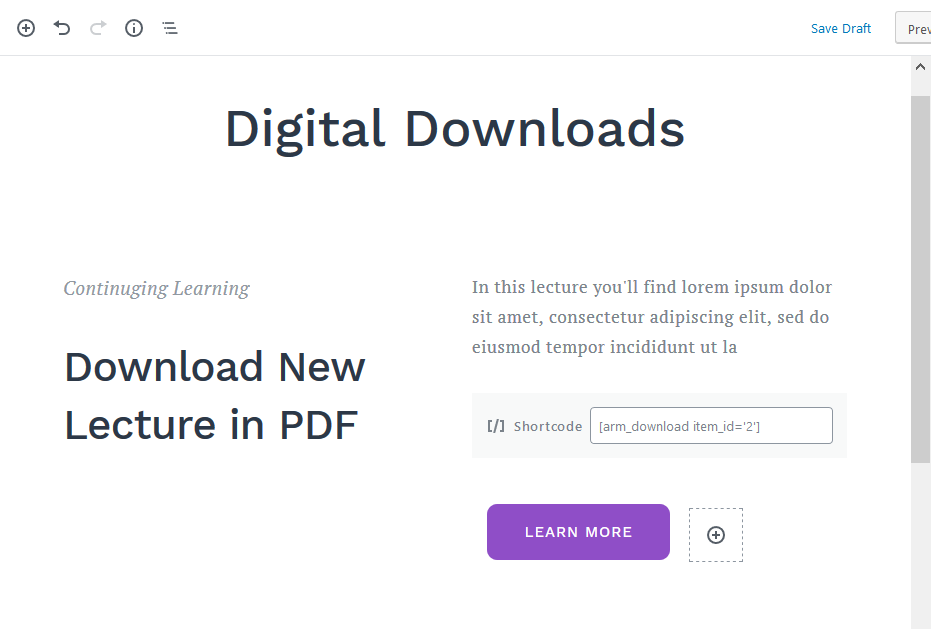 Thanks to the shortcode parameters you'll find
in the docs
, you can:


Mandatory: assign a downloadable product ID.


Optionally: put a downloadable file description, display a file size and a total number of downloads.


For example, here we've added the
show_size
parameter: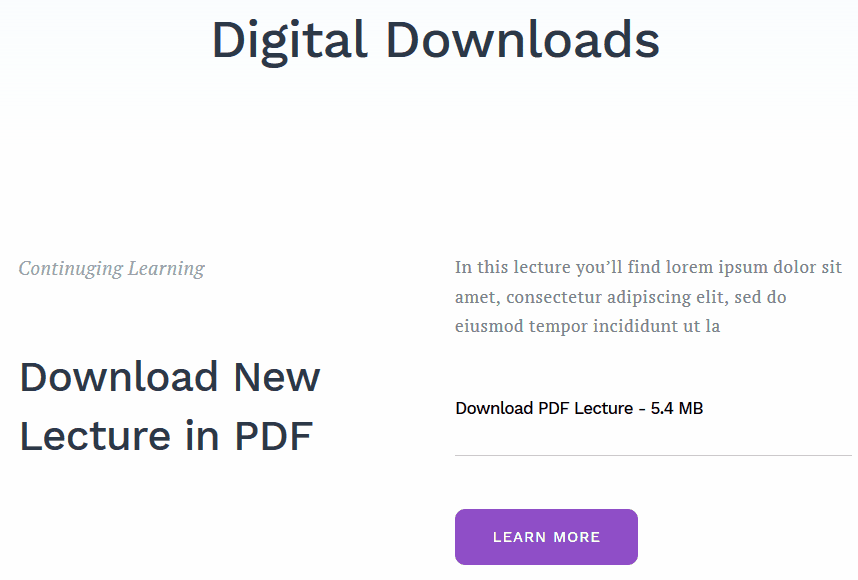 Step 5. View and manage a detailed history of downloads
Once people start downloading the files, you can track each of those actions. In the Download History table, it's easy to:


See member's details (username, IP, browser, country, etc.)


Filter the history by multiple parameters.


Export the history in a CSV format (a spreadsheet doc).


Conclusion: How WP Membership digital downloads can boost your online business
With the
Digital Downloads
extension for ARMember, which is just $25 for one website, you can manage, distribute and sell downloadable files the easy way, without a need to connect any extra solutions.
In general, the extension allows you to:


Upload and manage downloadable files with the deeply flexible system of user permission settings (restrict access based on the plan, user ID, etc.).


Activate, deactivate or completely delete downloads.


Use easy-to-handle shortcodes to add "Download" buttons to posts and pages.


Thanks to the ability to use external URLs for digital downloads, you can save up a lot of hosting space by sourcing heavy media assets like videos from third-party video hosting websites.


Really easy in setup and use.


Are you ready to give it a try and increase the value of your membership website?