What's the Difference Between Subscriptions vs Memberships?
November 23, 2021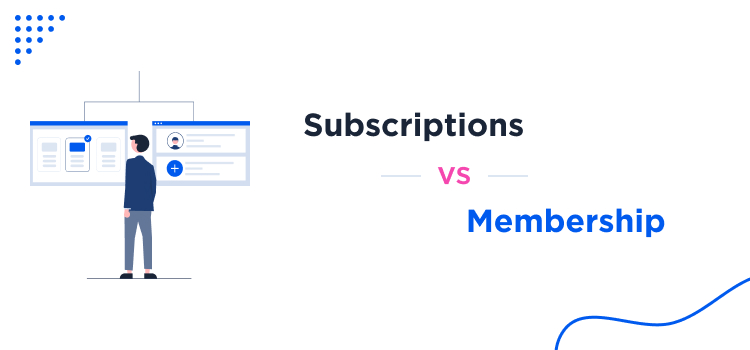 So, are you a WordPress site owner looking for ways to generate income from your website? And, are you confused about whether to go for a membership site or a subscription-based site to build the revenue you want? Welcome aboard!! You have landed at the right place.
Though people use membership and subscription interchangeably, they are not the same. Knowing more about membership and subscriptions will let you choose the better option that will work for your business. So, before launching your own membership or subscription site, understanding the difference between these two business models is highly recommended.
What is a Subscription?
Subscriptions are pricing tactics that require customers to pay a standard fee to avail of products/services. For instance, you can take a monthly subscription to an e-magazine. You will be paying for the magazine monthly, and you can access the magazine online for that month. You pay, you read, and the cycle goes on. If you stop paying, you will stop receiving the magazine. A subscription model is as straightforward as that.
International Living
is an example of a subscription site. The site attracts readers by posting quality blogs daily with pictures and content from various parts of the world.
What is a Membership?
Membership is much more than a financial transaction. It is more like a relationship among a group or community with similar interests. Thus, membership encourages meaningful relationships; and deeper connections as members are not just customers. Often, the business intends to meet the long-term needs of its members while the members help the business grow further as they share the same belief.
In short, anyone can be a subscriber. But, memberships are exclusive and vary from each store. With membership, customers can access specific benefits upon paying the membership fee. Though members pay a membership subscription fee, they give back to the community they are a part of; through their skills, time, and presence.
Fit For Free
, an online fitness center, is an example of a membership model. Customers pay to become gym members. Members get to discuss their diet plans, fitness routines with fellow members and stay motivated towards their fitness goals.
How does a Subscription Business Model Work?
The subscription business model is ideal for almost all industries like software, entertainment, food, furniture, retail, and so on. Yes, any business, irrespective of its size, can use a subscription model and sell its products/services beyond geographical restrictions.
Furthermore, people tend to subscribe to products and use them for a limited time rather than buying them. That way, they can experience the products that are expensive in a much affordable way.
Subscription Business Model works on:
Recurring billing and automated payments to provide digital services to subscribers.
Providing various subscription plans based on the customer's needs.
Monthly, quarterly, or yearly subscription options to achieve the business goals like acquiring new customers or retaining the existing ones.
How does a Membership Model work?
A membership site is nothing but a gated area of the website that allows only subscribed members to access the content. A membership site can either require payment or free, but the content is available only for its members. It is often known as paid or free membership site based on its pricing.
Once a membership restriction is put in place, only your members will log in and access your exclusive offers, special content or be a part of a community of your other site members. Plus, members can also interact with you or other members of your site.
The exclusive content on the membership site can be anything but not limited to:
Ebooks
Webinars
Members-only courses
Podcasts
Videos
Members-only blog posts.
Membership Model works on:
Member plans. Often the plans go from standard to premium, and price ranges vary based on the plan.
Monthly, quarterly and yearly memberships.
Various discounts and special promotions are offered to members depending on their memberships.
Is it Possible to have Membership without Subscription?
Businesses can provide memberships without subscriptions. They can have members registered in their community without any payment. That allows the brand to have loyal customers attracted to their product discounts and exclusive offers.
Is it Possible to have a Subscription without Membership?
Yes, it is possible either. Businesses can provide product subscriptions without a membership. Subscription brings recurring revenue for your brand as the customers will pay you as long as their contracts exist. Plus, subscriptions enable customers to access your products/services affordably.
Combining Subscription and Membership is a sure Win-Win Concept:
People often will not hesitate to pay a subscription fee if they get something valuable in return. Thus, combining both finance and relationship concepts, that is, subscription and membership models, can be a sure-fire winning strategy for your business.
All you need is a reliable WordPress membership plugin that provides all genres of membership functionalities flawlessly.
ARMember
is one of the reputed WordPress membership plugins that offer all membership features under one roof. With
ARMember
, you can turn your WordPress website into a membership site effortlessly.
Wrapping Up:
Both Subscription and
Membership Business Model
is ideal for any brands that look forward to generating revenue from their online business. Yes, any business needs to maintain a long-lasting relationship with its customers by offering valuable products/services. Rather than debating which is the best business model, combining both subscription and membership models will be perfect for your online business.
ARMember
is a reliable WordPress Membership Plugin that comes in handy for all your membership site needs. With the ARMember plugin, anyone can transform their WordPress website into a membership/subscription site in a matter of a few clicks and start generating recurring income online.