Reasons of Using Push Notifications for your Membership Website
July 27, 2020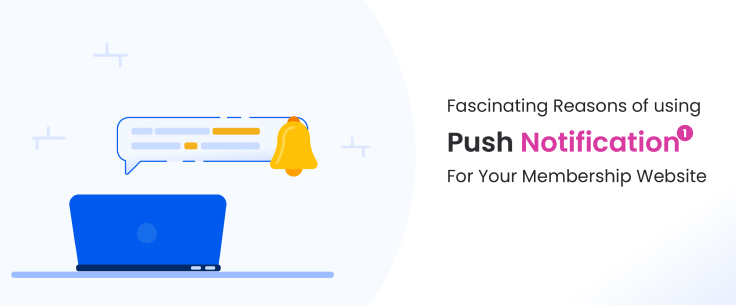 Push notification has an added advantage for the membership site as it can allow quick communication between you and your email list subscribers and to connect the audience in a hassle-free way. To say it to the best, push notifications are a super powerful way to help the website visitors take action faster! One thing that push notification can benefit you for
your membership site
is that it can provide the timely updates to the members or subscribers of your site. So, here in this article, we will show you the optimum usage and reasons behind using push notification for a membership website
Introduction to Push Notifications
Push Notifications let you send the clickable messages to the visitor's browser. In simple words, push notifications are those pop-up messages that are clickable that appear on the browsers on any devices. Generally, there are three types of push notifications namely web push notifications, desktop notifications, and Mobile app push notifications. So, once you apply the push notification on your website, then whenever a visitor visits your membership site, they will be able to see this small opt-in box on their browser.
What does this small opt-in box do?
This small opt-in box simply asks them whether they would like to receive an email opt-in notification or not! This simply means that once they allow the permission to receive the push notification then they will be added as the subscribers and you can then send them the notifications to try to engage them and bring them back to your website so that they will be most likely converted from the targeted prospect to the qualified leads.
Why should you make use of Push Notification?
Online businesses use a variety of ways to increase their traffic and gain new visitors so more and more people keep on engaging on your website. Even though email is mostly used as a useful marketing tactic, push notification scores over
email promotional content
and has even greater response rates. Subscribers can get the notification once they have opted-in for the push notification. Imagine the scenario where let's say for instance sending an invoice receipt each time your visitor is about to purchase or subscribe.
Providing Opt-In choice
One of the added benefits of the push notification is that it helps you to enhance your brand visibility among the audience simply by adding the subscribers with one click "Allow" option.
To Improve the High-Quality Leads
Many businesses suffer from a low-quality lead and the leads counts as some of the people don't feel okay to fill their personal information for some of the form fields. Having said that, one of the great thing with the push notification is that you don't have to depend upon capturing of the leads as you can simply add the subscribers by simply offering them with the one-click permission and engage them without even the need of their personal information. This means, whenever a push notification pop-up message is delivered, then it is for sure that you get a real subscriber from their active browser.
Increase Returning Visitors
Retaining your site visitors once they become your customers could be your next step. For that, you need to send them the clickable messages with the notifications and personalized messages to keep them engaged on your website through your website articles or with the means of the promotional offers. This way, you can boost visitor interaction with your website with the use of push notification.
Reasons behind the usage of the push notification
Push Notifications can help you improve the signup rates of your membership site
One of the great ways to make use of push notifications is for the online checkout for e-Commerce websites. Let's say, for instance, if you are running an e-commerce website then you can easily drive back the visitors who abandoned your cart at the time of checkout if they allow permission for push notifications. One of the best things with
applying push notifications
is that you can make use of it for your membership website as well. Especially, if your membership website is concerned about selling goods or services. For example, if your
membership website business
is to sell subscriptions, a one-time fee for the premium content access or even if it has
multiple payment cycles for the recurring payment options
, then push notification can highly influence the membership rates.
Helps you increase the user engagement
One of the notable things that you should keep in mind while running a membership website is that you probably rely upon your members and subscribers and should expect them to visit back to your website most frequently. Here are some of the actions to seek from your members:
Renewal of their subscriptions
Taking your online courses
Helping your members to take actions by allowing them to participate in the forum discussions
Engaging with your content and letting them comment
If you would like your members to get engaged, then you should use push notifications to drive them in the right way! A good example of it is the apps, let's say for instance many of them will send the notification to use them.
Ensuring that your Website does not get forgotten by your Members
One of the major problems that a membership site faces is that though many people find that most of them would never make their way back to visit back. This needs to have a closer look at as a community cannot be built without regular visitors. Luckily, the use of push notification can overcome those hurdles of sending the notifications on time. This will in turn bring up the higher retention rates. When it comes to the membership site, you can have plenty of options to send notifications. Let's say, for instance, you can send push notification related to the
new content release, premium content offers
, and even for the affiliate offers to benefit your members. Apart from that, you can try out some great Push notifications strategies that will help you to deal with some of the actions such as:
Crafting a clear and compelling content
Sending the right kind of push notifications that can engage your target audience.
Proving your subscribers with an easy opt-in and opt-out options.
Adding up social proof that mention your product or services or about your premium content satisfaction level received by your existing members.
However, if you are running a WordPress membership website, then there are a lot of free and paid push notification plugins that you can install and activate it on your WordPress website and grab the visitor's attention to ultimately make them stick to your website content.
Final Thoughts
At last, push notification can be a gateway to stay connected and in touch with your website members and with your existing subscribers. Hence, by the successful implementation of the push notifications, you can broaden your website's visitors reach and to connect with subscribers easily with an easy opt-in option. Did you find this guide an informative and insightful one? Just share it on the social network with your colleagues and friends to help them fulfil their business goals using the push notifications. Any suggestions or comments can be left in the comment section given below!