Effective Tools to Manage Multiple WordPress Sites from Single Dashboard
February 13, 2020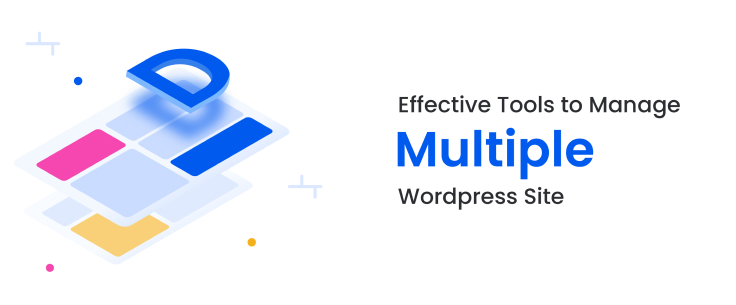 With the increasing use of Wordpress CMS, creating a website is not a hefty process anymore as it can be efficiently built with the use of Wordpress themes and plugins. The thing that makes it more troublesome is managing
multiple sites
which indeed is a clumsy process. A lot of things are involved while maintaining multiple sites with a variety of stuff like site plugins, themes, core backups, and a lot more. For all good reasons, if you are facing site management problems for your multiple sites. Then you have come to the right place!
What if you could manage all your sites in one single place?
Fortunately, it's possible to keep track of everything required to manage multiple sites at one place on a single dashboard. Let's jump directly to the key tools to manage multiple Wordpress sites from Single Dashboard!
ManageWP
ManageWP
is an impressive Wordpress website management tool that facilitates to manage all your multiple Wordpress websites on a single dashboard. So, accessing your multiple websites is never an issue now as the
webmasters
can easily access all of them in one place. Some of the cool features of ManageWP are:
Key Features
1 Click Admin Access – Allow access to all your websites without maintaining login spreadsheets, bookmarks, and password managers in one place.
Add Unlimited Sites – Adding an unlimited number of websites is never a hurdle as ManageWP allows access to any number of sites with a simple sign up.
Team and client Collaboration – The collaborate tool allows access to your team members without giving password access to them.
Safe Updates – Creates an automatic restore point for you and checks before and after updates and helps you roll back updates whenever something goes wrong.
Checks for Vulnerabilities – Detects vulnerability issue of vulnerable plugins and fix it up.
Managing Themes and Plugins – Wordpress core updates, themes and plugins are compiled into a single list. Hence you can manage them all from a single dashboard.
Migrate/Clone – Allows you to clone a website into a similar copy of your website.
Google Analytics – Get your Google Analytics data directly on your ManageWP dashboard. It allows you to connect multiple Google Analytics accounts.
Manage Comments – Manage all your website comments all at one place and send them to approve/spam within seconds without being logged in to each website separately.
2-Factor Authentication – To protect your sites from being accessed by the hackers.
Pricing:
ManageWP is a plugin that offers both
free
and
premium
monthly plans for freelancers, small and large agencies as well!
MainWP
If you are looking for an open-source and free tool that can manage your Wordpress websites all together with its useful features than
MainWP
can exactly offer you that. You can keep your multiple website's data secure all in one place in an easy manner. The core features of these extraordinary tools are free to use on unlimited sites. It also offers premium extensions with convenient bundle packages. So you only pay for what you opt for essentially! Let's jump to the fascinating features of MainWP
Key Features
Easy to Manage Plugins and Themes – Accessing all of your Wordpress site themes and plugins are easier than ever before. You can easily install, activate, deactivate or delete the plugins from multiple sites.
Updates without efforts – No need to waste your valuable time on updates of plugins and themes across multiple sites. All your multiple Wordpress site updates can be effortlessly done from the dashboard itself.
User Management – Managing your site users can be done without being logged in to each site. Also, new users for your multiple sites can be created from one place.
Multiple Backup Solutions – Offers multiple backup options and allows you to choose the best suitable backup for you.
Stay Secure by using a security scan – Utilizes Sucuri's proprietary SiteCheck tool to protect all your site's data from hackers and malware infections.
Websites Uptime Monitoring – If your site has been down due to the server issues, and coding issues, then the Uptime Monitor will alert you.
Pricing:
Offers
free
and
Pro
extension with the
monthly and Lifetime packages
options.
Jetpack
Jetpack
has taken its stand as one of the most popular Wordpress plugins. Amazingly, with more than
5+ million users
worldwide, this majestic Wordpress tool offers a vast range of options from managing, customizing and running your multiple Wordpress sites  at once through its interface. Besides, Jetpack can help you to manage the
content, security,
and
statistical
aspects of multiple sites from a single dashboard. Whether it's about
creating content
and updating it on various sites, managing various
themes settings
across multiple sites, or if it's about monitoring various
site data
and
statistics
, everything can be done from one place. Meanwhile, Jetpack also allows you to
schedule social media
posts, pages, and products before publishing.
Key Features
Image CDN – Embed high-resolution images on any page to provide proper resolution and lightning speed to load your site.
100+ Free Wordpress Themes – Offers a hundred plus professional themes that can be used for any portfolio, blogs, or even a business website.
Keep watch on the site traffic – Facilitates real-time updates on comments, site search, site traffic, and published posts.
Brute force attack protection – Automatically Blocks unwanted login attempts from malicious attacks.
Social Media Posting – Allows automated social media posting options.
Lazy Loading Images – If your site has plenty of high- resolution images then the lazy loading of Jetpack can help you to speed up your site.
Pricing:
There is a
free
plan with a plethora of features offerings and Jetpack's
premium
plan starting from 
Personal – $3.5/month,
Premium – $9/month,
Professional – $29/month
InfiniteWP
InfiniteWP
is one such powerful tool that can be used by webmasters who have multiple sites to manage with multi-purpose things. Most of the features list in InfiniteWP is sort of built for the Agencies, developers, and freelancers. So, if you are one of them, then InfiniteWP is a sure Wordpress management tool that you will want to go with. With thousands of happy customers including some giants like
IBM, Yoast, 
and others as such. It can be worth it for any enterprise or even small level business. Keep an eye on the features list:
1-Click Admin Access – Maintain records of usernames and passwords for various sites on a single dashboard.
Backup and restore – Backup all your Wordpress sites on a single click.
Install/Clone & Migrate WP – Get the installation of a fresh Wordpress copy or migrate an existing site and all its links can be replaced automatically.
Malware Scan – Bulk scan all your sites and safeguard them from malware and hackers.
Wordfence Security – Allows you to view all your multiple Wordpress site vulnerabilities.
Broken Link Checker – It's easy to fix the broken links of your various Wordpress sites.
Google Webmaster – Get the Google webmasters crawl and website performance reports for any number of Wordpress sites.
Well, there are other useful features like
Google PageSpeed, File Uploader, 2 Factor Authentication, Manage comments, Google Analytics, Client Reporting
and many more. InfiniteWP has got everything that fits best for any level of business needs.
Pricing:
Offers a bundle of
premium
plans options that will cost you a big deal.
iThemes Sync
Looking for one more multiple
Wordpress site
management tool
? Surely, you can get your hands on
iThemes Sync
as it provides more comprehensive features and functionality within its core. You can manage the installed themes and plugins of your multiple Wordpress sites from the dashboard itself. Specifically designed to save you plenty of time and effort. This Wordpress management tool offers starts with the limitations of up to 10 sites in its pro plan. Besides, there are different integration that can be made like
iThemes Security Pro, BackupBuddy, Gravity Forms, Yoast SEO
and a lot more. Some of the advanced and pro features are:
Key Features
Send Client Reports – Send Wordpress maintenance reports via email.
Uptime/Downtime Monitoring of sites – Instantly know if any of your sites go down for any reason.
BackupBuddy – Integration with BackupBuddy to backup your entire Wordpress website on a fly.
SEO Checker – Quickly lets you see the SEO status of the Wordpress site content.
Google Analytics Data Tracking – Allows getting the key site metrics from the dashboard.
Bulk Themes and Plugins installation – Install, update, activate or deleting plugins and themes can be done directly from the dashboard itself.
Pricing:
Premium plans start
$130/year
for
10 sites
and offer 4 types of plans.
Final Words
While the above Wordpress site management tools can be effective depending on the type and the use of its features. The given list can help you best to manage multiple Wordpress sites on a single dashboard with a wide range of other features. Indeed, these are the tools that can improve your site's performance. Do share your thoughts on the comment section to what's your favorite one from our list!