7 Best WordPress Automation Tools (Compared)
September 15, 2023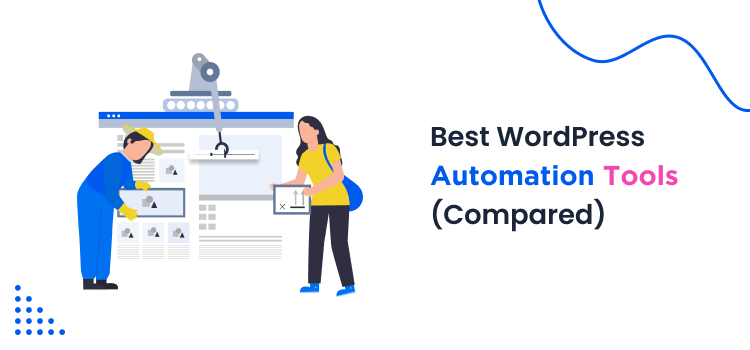 For busy bloggers and intrepid entrepreneurs, these are the very best WordPress automation tools to help you save time and money—collated, compared and contrasted!
If you've been searching for WordPress automation apps and plugins, you've likely come across a few great options already. Maybe even more than you can remember. But, with so many great tools, you almost need a plugin to find the right one. Or, perhaps, just a very handy list. Like this one.
After some extensive research, we've collated, compared and contrasted the seven best WordPress automation plugins so that you don't have to. Whether you're a busy blogger, e-commerce entrepreneur or marketing maven, an automation plugin is on this list for you.
Now, buckle up. Your productivity is about to go into hyperdrive!
How to Choose Your WordPress Automation Plugin
Ultimately, the automation plugin you choose will depend largely on the type of WordPress website you're running. Are you running a membership website? A WordPress directory or listing website? Maybe you're running an e-commerce website or a portfolio.
Regardless of the type of WordPress website that you're running, there are some key features you'll want to consider when selecting an automation tool:
1. Compatibility and Updates
One of the first things you'll want to do in selecting a WordPress automation tool is ensure that it is compatible with your version of WordPress and, by extension, your WordPress theme.
A good tool/plugin will have a history of regular updates. Incompatible or outdated tools can cause functionality issues and open the door to security risks.
To ensure that a plugin is getting regular updates, you can check the WordPress.org listing. There, you can see the plugin's latest update and whether or not the developers have tested the plugin against your version of WordPress.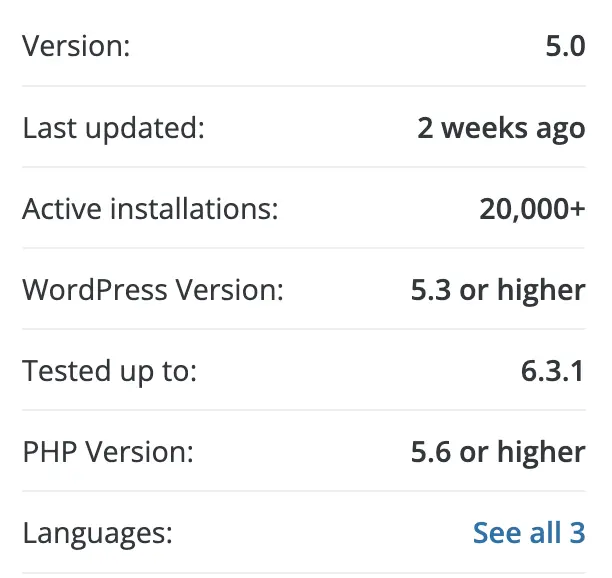 It can also be useful to check out the plugin developers' website. Head to their blog to get a sense of recent activity, pace of new features, frequency of fixes, etc.
We've ensured that every plugin on this list has a history of regular updates and is compatible with the latest version of WordPress.
2. Integrations, Add-Ons and Extensions
A big part of WordPress automation is integration. What good is an automation tool if it can't connect your form-builder to your analytics center? Your membership tool to your CRM? Or your ecommerce platform to your event management plugin?
Most of the time, the automation you'll want to create involves at least two separate apps or plugins. The automation tool you choose should have the integrations you're looking for or the ability to create them with existing add-ons or extensions.
3. Performance
Different apps and plugins can impact your website's performance (speed, SEO, UX etc.) in various ways. While it's difficult to find performance benchmarks before purchasing a new app or plugin, there are ways to get an understanding of how it might impact your website.
The WordPress.org listing will tell you how many active installations a plugin has. Social proof is a good proxy for performance—the more active installations, the better.
Also, the WordPress community is very engaged. Skim the reviews on the WordPress.org listing page for any mention of performance impact.If there are any issues, a WordPress user will likely have mentioned them.
With that said, all of the automation tools on this list were created by expert WordPress developers to balance performance and functionality carefully.
4. Support and Documentation
Even for the most user-friendly apps and plugins, support is key. Make sure that whichever automation tool you choose comes with comprehensive documentation.
Blogs, knowledge bases, tutorials and/or community forums are all great resources to have at your fingertips for quick problem-solving or FAQs. If you intend to push the limits of your automation tool, ensure you can open tickets and contact customer support.
5. Cost and Features
Last but certainly not least, cost and features. Most of the plugins on this list have free forever versions, limited demos or money-back guarantees. Regardless, they are all well-priced for the features that they offer.
But what are the features that you should be looking out for? In a word, customization.
Features such as filters, delays/schedules and compatibility with WordPress metadata allow you to create automation specific to your workflows. The automation tools on our list are flexible enough to bend to your will and robust enough to execute your tasks.
With these criteria in mind, let's dive into our list of the top WordPress automation tools.
1. Uncanny Automator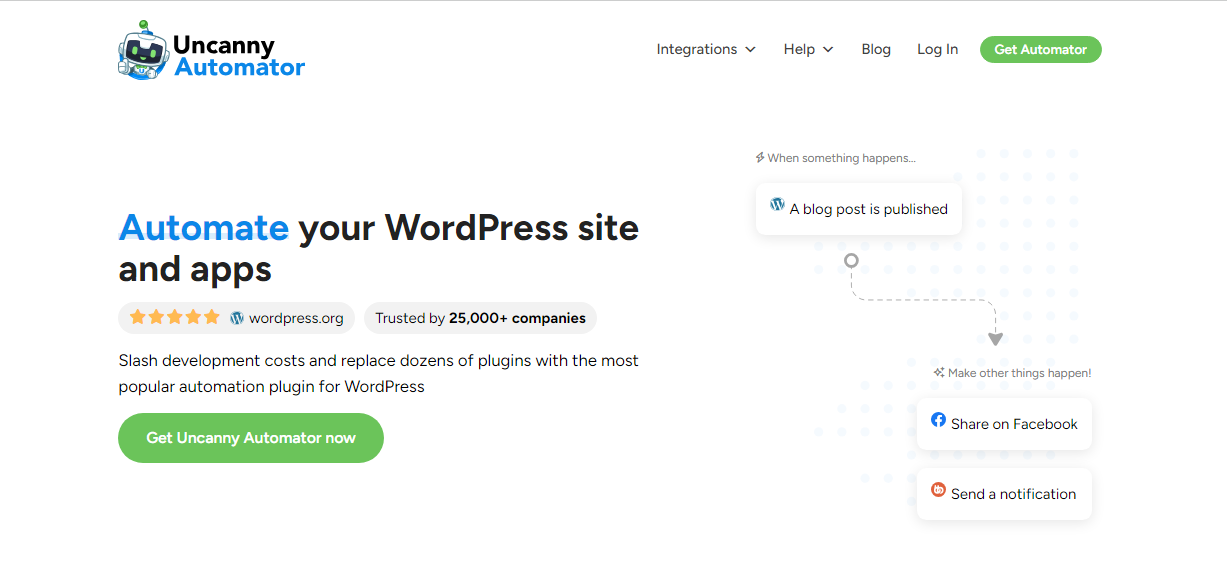 When it comes to WordPress automation and integration, the #1 name in the game is
Uncanny Automator
. With over 25,000 active installations and a 5-star rating, Automator is one of those must-have plugins for every WordPress website.
Pros
Integrations: At the time of writing, Uncanny Automator has more than 130 integrations (with more on the way). This plugin can automate tasks across any number of the most popular apps and WordPress plugins, including Google Sheets, WooCommerce, ActiveCampaign, LearnDash, WhatsApp, Facebook and… well, you get the idea. With so many integrations, Automator is the most flexible automation plugin on the market.
Ease of Use: The Automator packs all of its power into a simple interface called the recipe builder. To automate tasks across your various apps and plugins, click on the familiar icons and select your combination of triggers and actions from dropdown lists. There's no coding required.
Cost-Effectiveness: Unlike other automation tools, Automator does not charge per automation. This makes it a great option for large WordPress websites with thousands of daily to automate and for savvy start-ups looking to save as they grow.
Support: Automator has an extensive knowledge base constantly updated with each new release. They also have an active blog where you can find useful tips and tricks to get the most out of the plugin. In case you can't find what you're looking for between the blog and knowledge base, Automator's team of developers offer hands-on, industry-leading support.
Features:
Filters (using conditions that you define), delays/schedules, loops (or the ability to perform bulk automation), calculations, and dynamic data are just some of the myriad features that make it easy to create automation that suits your workflows.
Cons
Pricing:
Full access to Automator's suite of integrations and powerful features (such as multiple triggers) only comes with a paid plan, starting at $149/year. But you won't incur any per automation fees, and the free version of the plugin comes with a limited number of credits for sampling some app integrations.
2. ARMember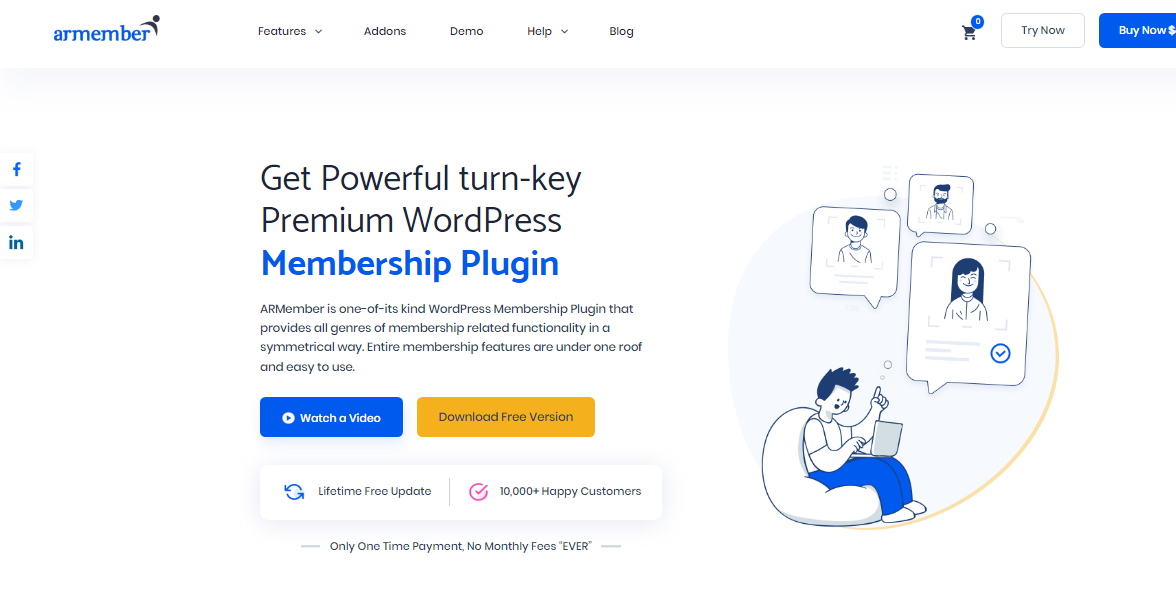 ARMember
is the turn-key membership plugin for WordPress that puts all of your members under one (virtual) roof. It's a premium automation plugin for WordPress membership websites and a must-have if you want to keep your site users close and your cost-savings closer.
Pros
Cost-Effectiveness: Most automation tools have monthly or annual payments, making them a recurring cost for your business. But not ARMember. With ARMember, you make a one-time payment for lifetime access to powerful membership automation features.
Add-Ons: ARMember has over 35 premium add-ons to help you customize your membership website. Whether you're selling access to online courses or want to send updates to members with WhatsApp or SMS, there's an add-on to help you automate that process.
Support:
Whether you've opted for the free version or made the one-time payment for the premium plugin, ARMember has an extensive catalogue of video tutorials to help you get the most out of it. The paid version of the plugin also comes with lifetime updates so that your membership site will continue running smoothly. You might even say, automatically!
Cons
Lite Free Version: The free forever version has the basics, but the powerful automation features (opt-ins, flexible recurring payments, etc.) are included in the paid version.
3. WP Fusion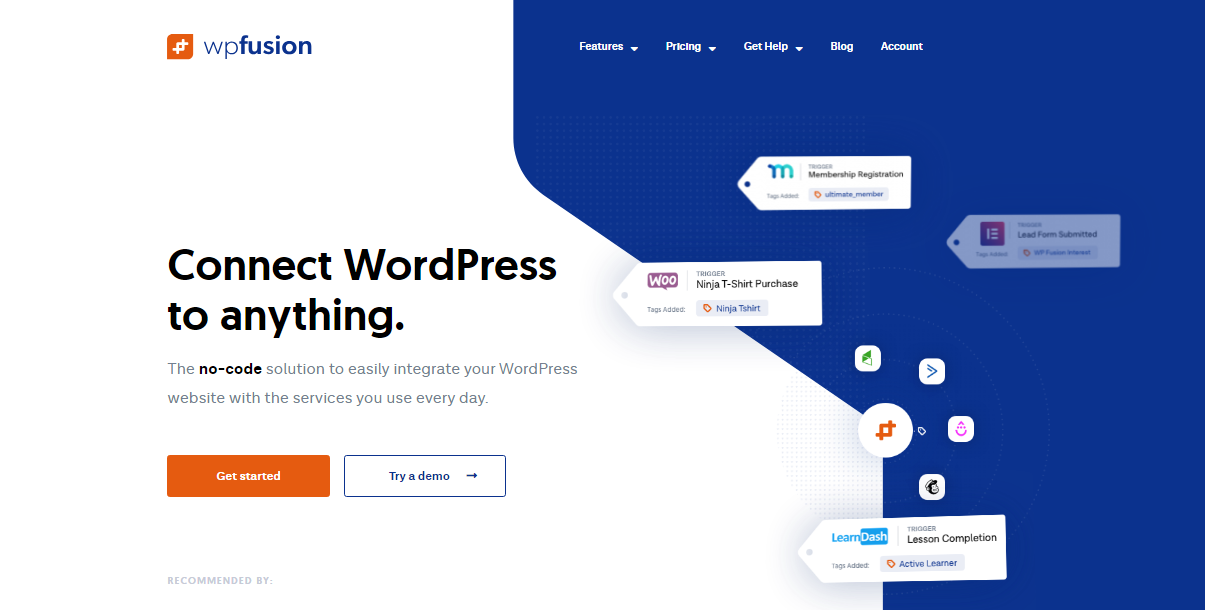 WP Fusion
is a powerful WordPress plugin designed to supercharge your website's marketing automation capabilities. "Fuse" your apps and plugins to create automated workflows boosting conversions.
Pros
Integrations:
WP Fusion can connect your CRM of choice to approximately 150 other apps and plugins. This makes it one of the best automation tools for marketers seeking to fuse their e-commerce, membership or events management platforms with their CRM. You can then use these integrations to build more detailed contact profiles and automation that drive conversions.
Cons
Pricing: WP Fusion does have a feature-light free version. Full automation, however, starts at $247/year or $999/website for lifetime access.
CRM Dependency: WP Fusion primarily focuses on connecting plugins and apps to your marketing tools, specifically your CRM. If you're looking for a WordPress automation tool to automate your workflows, not just your marketing workflows, WP Fusion might not be the right fit for your website.
4. FunnelKit Automations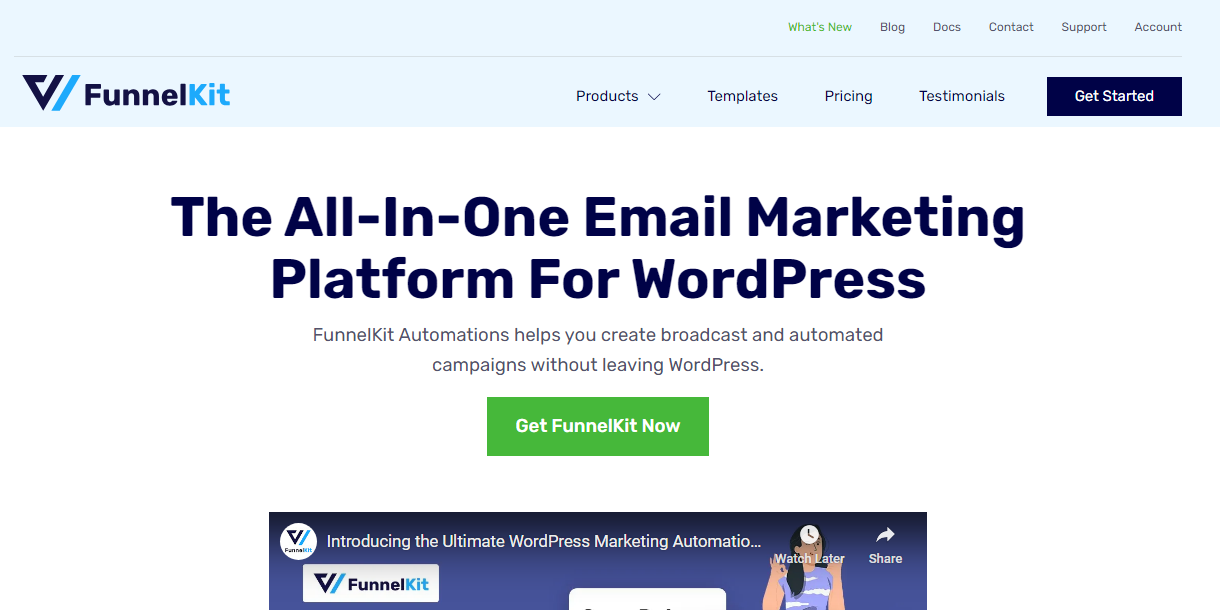 If email and e-commerce marketing automation is what you're after, then you'll have fun with
FunnelKit
. Create automated email marketing campaigns from within WordPress for your subscribers worldwide. Then, help ease them through your sales funnel with clever automation.
Pros
Visual Builder: Creating even the most complex of automation is easy with FunnelKit, thanks to a visual builder. Simply drag and drop the triggers and actions that make up your sequence into the builder, then watch your sales funnel go to work.
Features: Customers are unique, and you need the ability to create automated sales funnels that work for them. FunnelKit is loaded with features that allow you to customize your automation and, subsequently, your customers' journeys through your sales funnel. Take advantage of conditions, delays and goals to create sales funnel automation responsive to your customers.
Integrated Analytics: FunnelKit puts valuable KPIs such as open and clickthrough rates, revenue and more right in the visual builder so you can optimize your sequences as you build them.
Pricing:
FunnelKit offers a feature-light-free forever version of their plugin. It likely won't have all of the automation features you're looking for, but with some pre-built automation, you can get started immediately. From there, upgrading to a paid version starts at an affordable $99.50/year.
Cons
WooCommerce Focused: FunnelKit is a great tool for e-commerce automation—but only if WooCommerce powers your e-commerce store. You'll need to find another plugin if you're using another e-commerce platform (for example, Shopify, BigCommerce or Easy Digital Downloads).
Limited Integrations: Compared to some of the other automation plugins on this list, FunnelKit doesn't have nearly as many integrations. There are a limited number of CRM integrations and even fewer third-party integrations.
5. AcyMailing
AcyMailing
is a lightweight but powerful newsletter marketing automation tool. Take advantage of a drag-and-drop builder to write beautiful emails that turn subscribers into customers.
Pros
Unlimited Emails: Most email marketing automation tools price their platform based on the number of emails you want to send. However, with AcyMailing, you can send as many emails as you want if you're using your own SMTP service. WordPress has a few free SMTP plugin options, so you can send as many emails as you can write.
Built-in Mail Tester: With email marketing automation, you always run the risk of ending up in your subscribers' spam folders. AcyMailing eliminates that risk with a built-in spam tester to ensure that your emails end up in your subscribers' inbox, not the trash can.
Dynamic Content:
AcyMailing makes it easy to include your latest WordPress content directly in your automated newsletters, reducing your writing time.
Cons
Pricing: AcyMailing's Starter plan is free but only includes the drag-and-drop email builder and some basic statistics. For the advanced automation features that make this plugin an "ace" in our books, you'll need to upgrade to the Entreprise plan, which starts at €89/year and goes up to €240/year.
6. Tablesome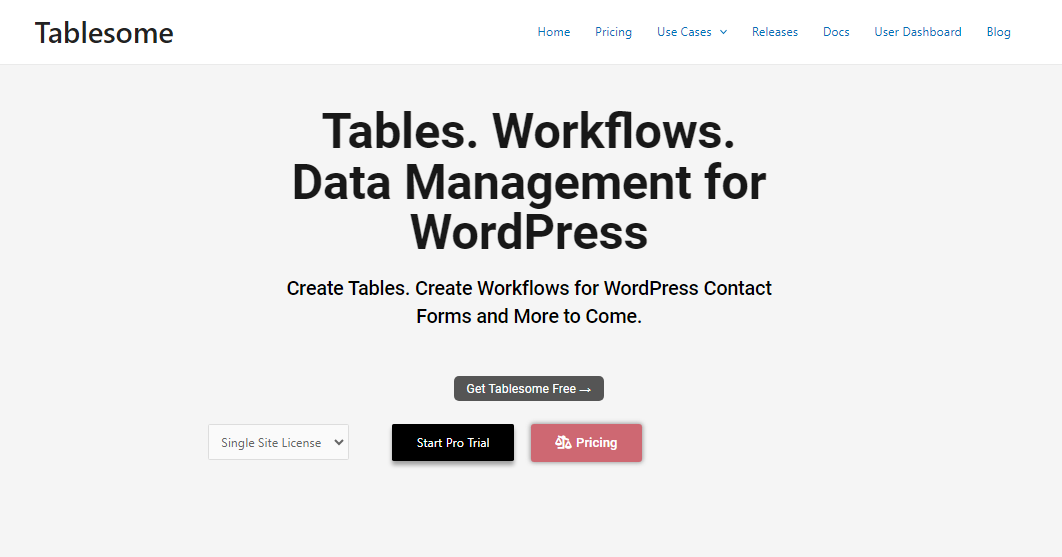 Tablesome
is an innovative, all-in-one WordPress plugin designed to help you automate your databases. Whether you want a central location to view your email logs or compile a list of your contact form entries, Tablesome has you covered. Easily collect, collate and categorize your WordPress data with Tablesome.
Pros
Customizable Design: Most WordPress automation tools will have some form of analytics built-in. With Tablesome, however, you can display your WordPress data your way. Embed shortcodes, add media, adjust columns and control input formats.
Integrations: Tablesome integrates with all of the top WordPress form plugins. Whether you're using Elementor Forms or Gravity Forms, automatically store your form entries in your Tablesome table and display them anywhere you'd like—even on the front end!
Support:
Tablesome offers priority support to all of its premium users. As a premium user, you'll get direct access to the plugin's developers to help solve your issues or answer your questions.
Cons
Premium Features: Most powerful automation features are only included in Tablesome's paid plan. You'll need to upgrade to the premium plan to automatically add form entries as contacts in your CRM, unlock unlimited triggers and actions and register users.
7. Oasis Workflow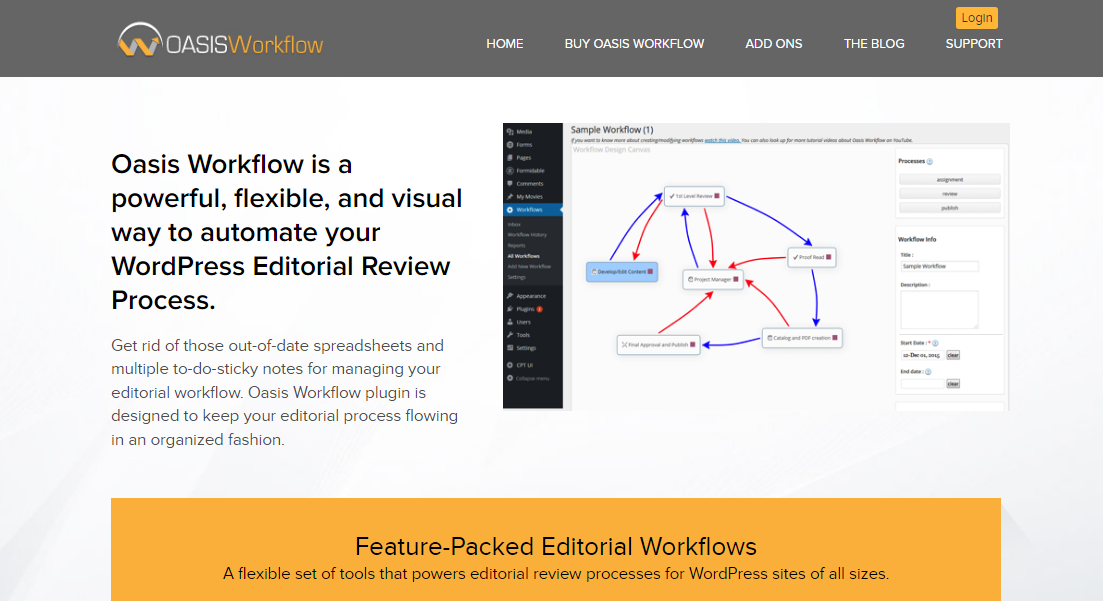 If you're running a WordPress blog,
Oasis Workflow
is the perfect automation tool to simplify your editorial review process. Create visual representations of your workflows and automate the review process to churn your content out faster and with better results.
Pros
Add-Ons: With a whole bevy of add-ons, Oasis Workflow can help you automate your entire content creation process. Some essential add-ons include the editorial checklist and content calendar to help you publish consistent content on time.
Features:
Oasis Workflow helps you automate your revisions and updates to keep your content fresh and your SERPs ranking high. Other features that we know you'll love are the ability to automate your workflow initiation process and capture user and system actions executed in a workflow so your automation never gets ahead of you.
Cons
Pricing: Oasis Workflow Lite, the free version of the plugin, doesn't have some of the better automation features that make this a top-tier plugin. However, you can request a demo, and the Oasis Workflow team will set you up with a dummy site.
Paid plans start with the Pro version at $119/year and are usually good enough if you're running one WordPress website.
WordPress Automation FAQs
We're pretty confident that we've helped narrow down the list of WordPress automation plugins you're considering for your website. However, in case you need a little more information, here are some questions related to WordPress automation that we see most often:
Should I automatically update my WordPress themes and plugins?
Setting your WordPress themes and plugins to auto-update is tempting, but we strongly caution against it. New updates and releases may cause compatibility issues that disrupt your website and workflows. It's always best to review releases in detail, update your themes and plugins one at a time then test them independently on your website.

What's the best FREE WordPress automation tool?
We'll start this answer by saying that any WordPress plugin, free or paid, is designed to help you save money (and a lot of time), so, in a way, they're all FREE! However, if you're not looking for a paid solution just yet, then two of the best options for free automation are Uncanny Automator and ARMember.

Uncanny Automator took the #1 spot on our list because it's the #1 automation and integration plugin out there. And, of course, it has a free forever plan. Additionally, because Automator doesn't charge a per automation fee, you can create as many powerful time-saving automations as you want without ever giving up your credit card details.

We'd also be remiss, not to mention the complimentary credits you get just for signing up, which gives you limited access to app integrations usually limited to paid plans. So, not only is Automator FREE, but it actually gives you credit!
Similarly, the #2 spot on this list, ARMember, is a great FREE automation option for membership websites. Even though the most powerful automation features are only included in the paid plan, there's more than enough in the free version to start your membership website. ARMember can help you grow your membership site so that you can upgrade to the paid plan in your own time. 

We hope that you found this article helpful. Stay tuned for more useful WordPress recommendations, tips and tricks!

Still haven't found the automation tool that suits your needs? Let us know what kind of WordPress website you're running in the comments section below, and we'll be happy to make a few more suggestions.