Content Dripping with ARMember
November 24, 2017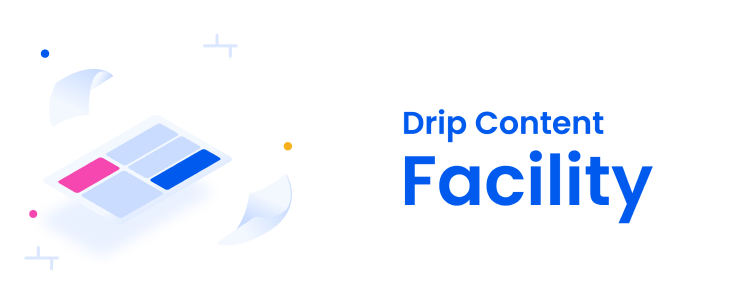 When you first start building your membership website, it can be tempting to give your paying customers everything right away.
After all, instant gratification is, well, gratifying.
However, when you set out to create a membership site that charges customers on a monthly basis, you need to avoid giving it all away in the beginning.
If you do, your customers will have no reason to come back month after month, and you'll lose out on opportunities to retain your audience, much less your consistent income stream.
That's why utilizing the concept of content dripping (the release of members-only content at regular intervals) is such an important concept for membership website owners to understand.
By doing this, members must return each month if they want to see what the next installment of content is.
And, it just so happens that ARMember accommodates content dripping.
Using ARMember for Content Dripping
The ARMember membership plugin comes with a built-in content dripping module, making it easy for you to release content installments to your members.
However, before you can begin the process of dripping content, you need to activate the Drip Content add-on found under ARMember > Add-ons.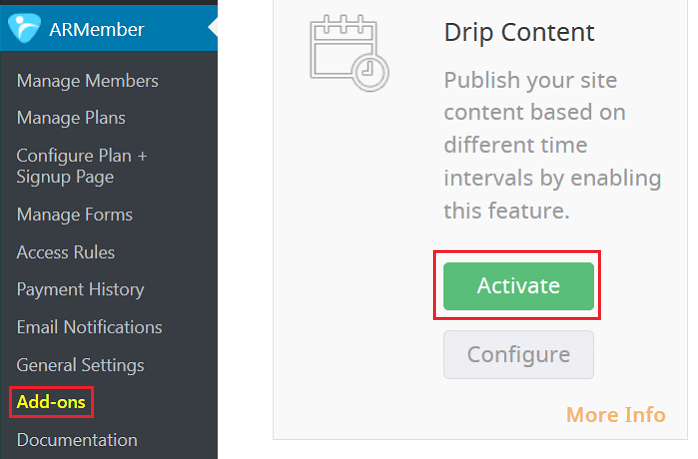 From there, simply navigate to ARMember > Drip Content to get started.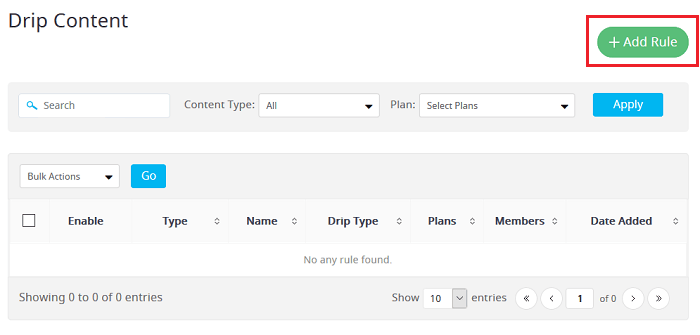 Click on Add Rule to define the following:
Content type
Title of content
Membership plans
In addition, you will need to configure the Drip type from the drop down menu:
Immediately. Release this content to members right away.
After certain time of subscription. Release to people who have been loyal members for a specified amount of time.
Specific date onwards. Set a release date and let it be available to all members from that date forward.
After certain time of post is published. Release content after a post has been published for a specified amount of time.
After a certain time of post is last modified. Release content after a certain period of time after making modifications.
This feature really makes ARMember stand out when it comes to content dripping when compared to other membership plugin solutions.
It gives you the flexibility to determine exactly how you want to drip content, in a variety of different ways, and is simple to define.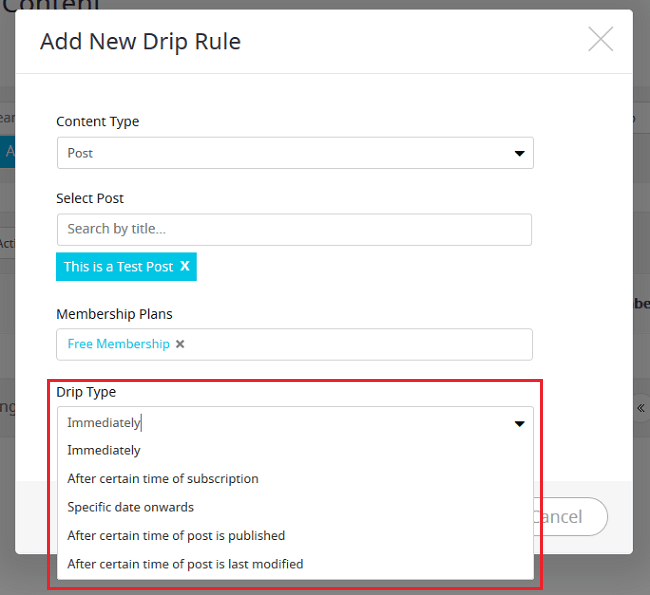 After saving, notice the rule in the Drip Content dashboard, complete with all of the parameters you just set.

Here, you can easily enable/disable any content dripping rules you have defined, edit rules you have configured, and even delete the rule.
What's better, ARMember makes searching for previously defined rules a cinch using the search function.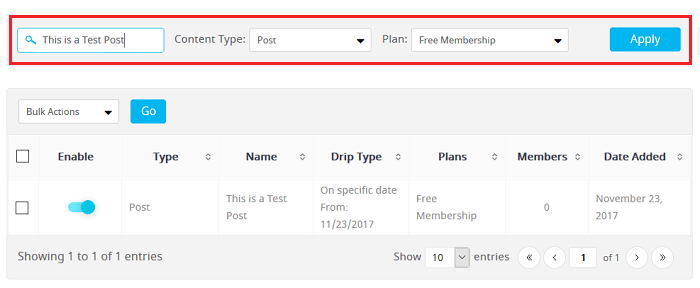 This is helpful for large membership sites full of tons of exclusive content.
Custom Content Dripping
ARMember offers membership site owners a truly unique feature in which you can partially release custom content.
Think of it as a teaser of some sort. Something to get members interested in the next installment of content, without releasing it all right away.
To do this, navigate to ARMember > Drip Content and select Add Rule (just like before). Only this time, when you set the parameters for your drip content rule, select Custom Content from the Content Type dropdown menu.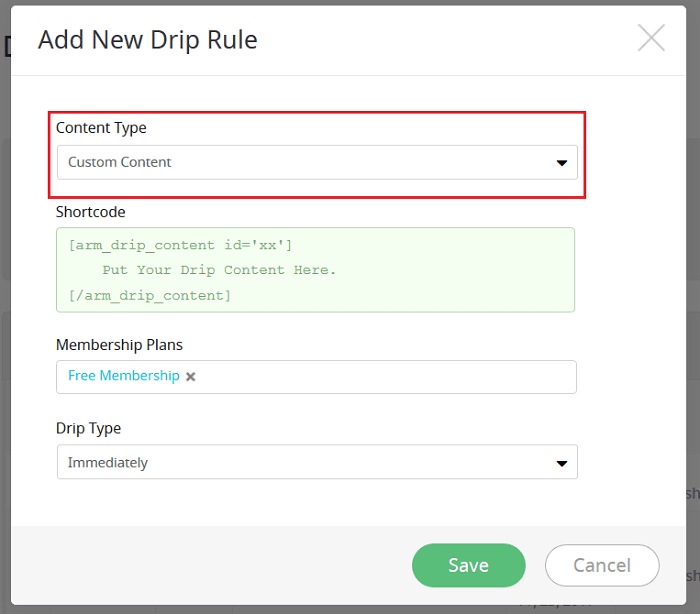 You will then see a custom shortcode has been created immediately. Save your changes.
Next navigate to the post or page you want to create your partial content on. Add the content you want your members to see. Then, click on the button labeled Membership Shortcodes.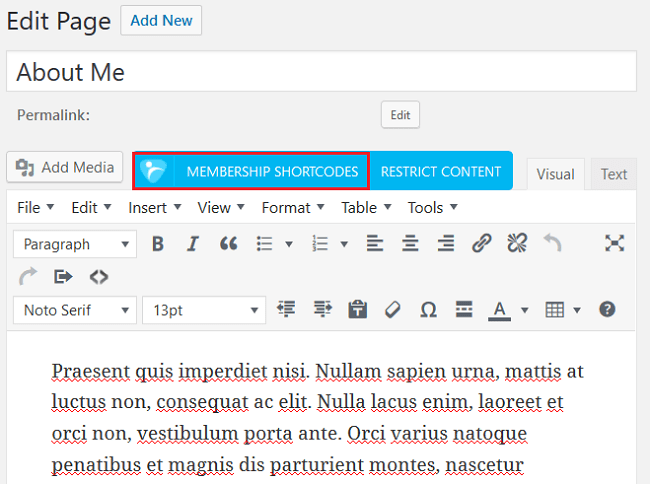 You will see a modal popup. Choose the Drip Content tab.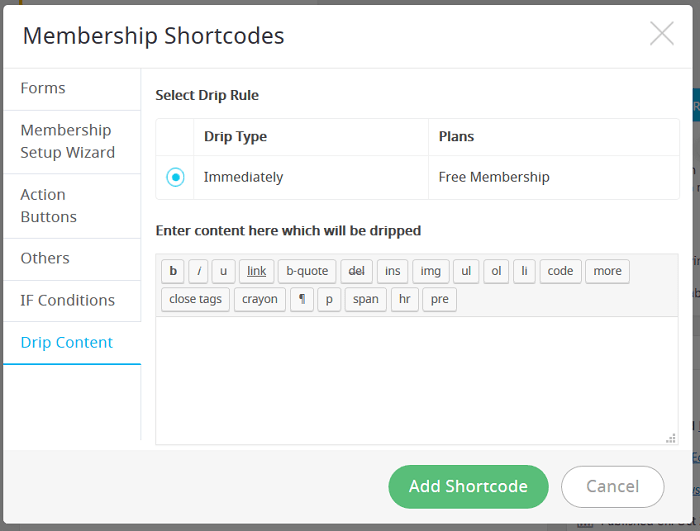 You will then see all custom content drip rules you have created. Select the one you want to release to your members and click on Add Shortcode.
After you have done this, the shortcode will add to the content you want to release to your members. From there, your content will release according to your pre-defined Drip type rules (immediately, after a specified date, etc.).
Being able to drip partial content is a great marketing technique that ARMember gives site owners. It allows you to promote new content that is soon to be released, garner interest in content that is set to be released, and encourage members to stick around.
Final Thoughts
In the end, content dripping is one of the best ways to entice paying members to keep coming back for more. Especially if your content is truly valuable, entertaining, and informative.
Take advantage of ARMember's easy to use Drip Content feature and start offering content installments to your members right away. This will boost customer retention, make your life a little less stressful, and ultimately help your membership website become successful.
What are your thoughts on content dripping? Have you ever tried it as part of your membership website? I would love to hear all about it in the comments below!