7 of the Best WordPress Backup Plugins for 2023 (Free and Paid)
May 30, 2020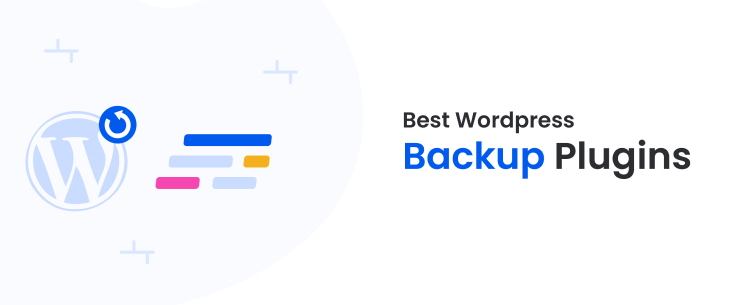 While
creating a WordPress website
, you can have great experiences when things are going the right way! But, your experience can be turned off if your website gets some malicious attack or due to corrupt data while the installation of a new theme or plugin. Facing website conflicts can be so much daunting and frustrating when you have no clue about restoring it. So what can be the best thing to do? The answer is to backup your website. A backup can help to restore your website data and content to get it up and running again.
How to Protect your WordPress Site?
With the installation of a backup and restore plugin for your WordPress site, it can simply do wonders of things! The usage of WordPress backup and restore plugins will ensure to make the entire backup and restore tasks much easier and in a hassle-free way! Hence, to safeguard your WordPress site, we have come up with some best WordPress Backup plugins. Let's jump to the list!
UpdraftPlus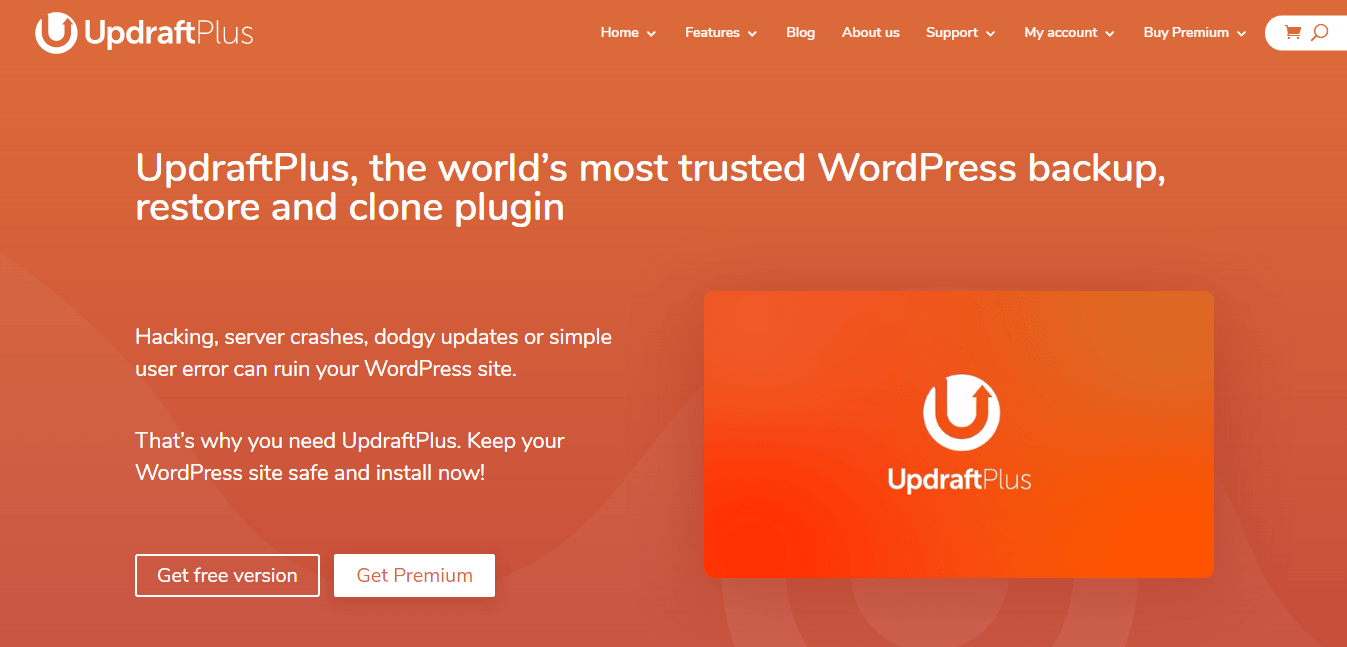 UpdraftPlus has taken its stand as the most renowned and trusted WordPress backup and restore plugin across the globe. With over
2+ million of active installation
of UpdraftPlus WordPress Backup plugin, it is worth investing in your WordPress site. Amazingly, the customer's response on Wordpress.org plugin repository is outstanding with (4.8 stars out of 5-star ratings). For all good reasons, the plugin is filled with the many additional features list. To name some of the most useful one, here is what UpdraftPlus provides to its users:
It allows to backup limitless files and external databases.
Both manual and automated backup scheduling options are available
Offers UpdraftVault that is a central place for storage and is simple, flexible, and secure.
It supports more remote storage such as Amazon S3, Rackspace, Dropbox, Google Drive, Microsoft One Drive, Google Cloud Storage, Openstack Swift, FTP, and many more option than any other WordPress backup plugin.
It offers encrypted database backups for security purposes.
Pricing
UpdraftPlus have both free and premium plan option. Its premium plans have 4 options to choose for the users – Personal for $70/Year (Up to 2 sites), Business for $95/Year (Up to 10 sites), Agency for $145/Year (Up to 35 sites), and Enterprise for $195 (Unlimited sites)
WordPress Backup & Migration

This
WordPress backup plugin
is an easy and flexible solution for the backup and migration of your WordPress site. With the plugin you can perform both manual and automated backups at custom intervals. It supports multiple backup storage locations for flexibility in the storage and retrieval of the backed-up data. As with most other migration plugins, this plugin doesn't have any limitation to the size of the website you can migrate, whether you have a big or small site you can migrate it effortlessly. Key features of WordPress Backup and Migration
Supports OneDrive, Dropbox, Google drive, Amazon S3, FTP, etc., for backup
Supports one-click manual and automatic migration
Easy backup and restore
Automatic search and replace operations
Option to backup selected content (database, files)
VaultPress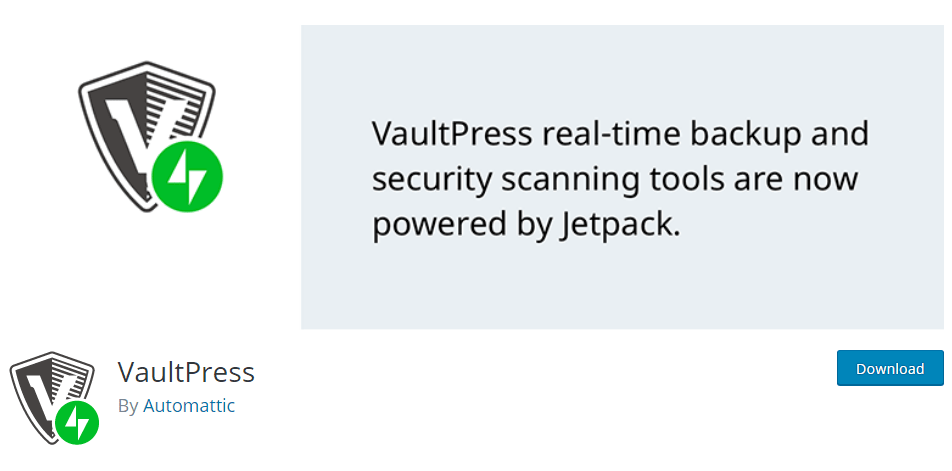 VaultPress
is yet another powerful WordPress backup plugin. This is the plugin that is powered by Jetpack. It is an amazing plugin that can backup every post, comment, media files, page, revision, and setting. This plugin can do up to date backup of all your WordPress content both for daily and with the real-time syncing. Besides, VaultPress also ensure to safeguard your site by performing a comprehensive security scans every day to review and fix threats. Features of VaultPress
It can restore any backup in just a few minutes with the use of FTP and SSH connection
Allows reviewing the suspicious codes and fixing the vulnerable files on a single click.
It can scan your entire site for the potentially dangerous files.
It allows you to instantly download any historical backups and download your database, files, uploads, themes, and plugins.
Pricing
VaultPress backup has two plans – Real-time Backup for $50/month, and Daily backup plan for $20/month. Whereas VaultPress jetpack personal plan costs $39/year, Jetpack Premium for $99/year, and Jetpack Professional for $299/year.
Duplicator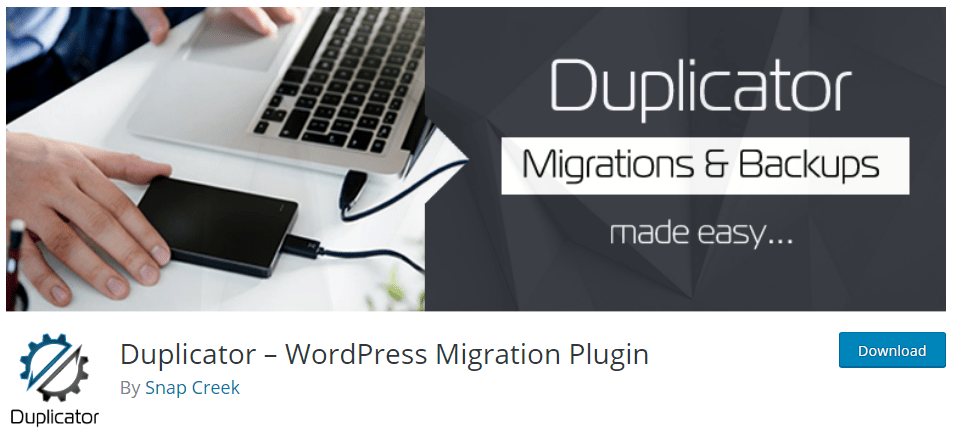 Duplicator
is a popular Wordpress plugin that can be used to easily migrate and backup the WordPress site. A good thing about this plugin is having the ability to handle migration and backups at a zero downtime. Duplicator can handle all your WordPress files in a zip format which can be easily downloaded offline and migrating across the same or other servers as well. Let's have a look at some key features of the Duplicator WordPress Migration Plugin:
Supports the multisite network backup and migration.
Allows to manually import large databases.
Allows cloud backup to Dropbox, FTP, Google Drive, One Drive, and Amazon S3.
It allows you to limit the stored backups so the cloud storage didn't get filled up with your previous backup.
Pricing
This plugin has free and paid both the version available. Duplicator Pro WordPress migration plugin comes with 4 premium plan options. The personal plan costs $59 for 3 sites with 1-year support and updates, Freelancer plan for $79 for 15 sites with 1-year support and updates, Business plan for $129 for unlimited sites with 1-year support and updates, and Gold plan for $359 for unlimited sites with lifetime support and updates.
BackupBuddy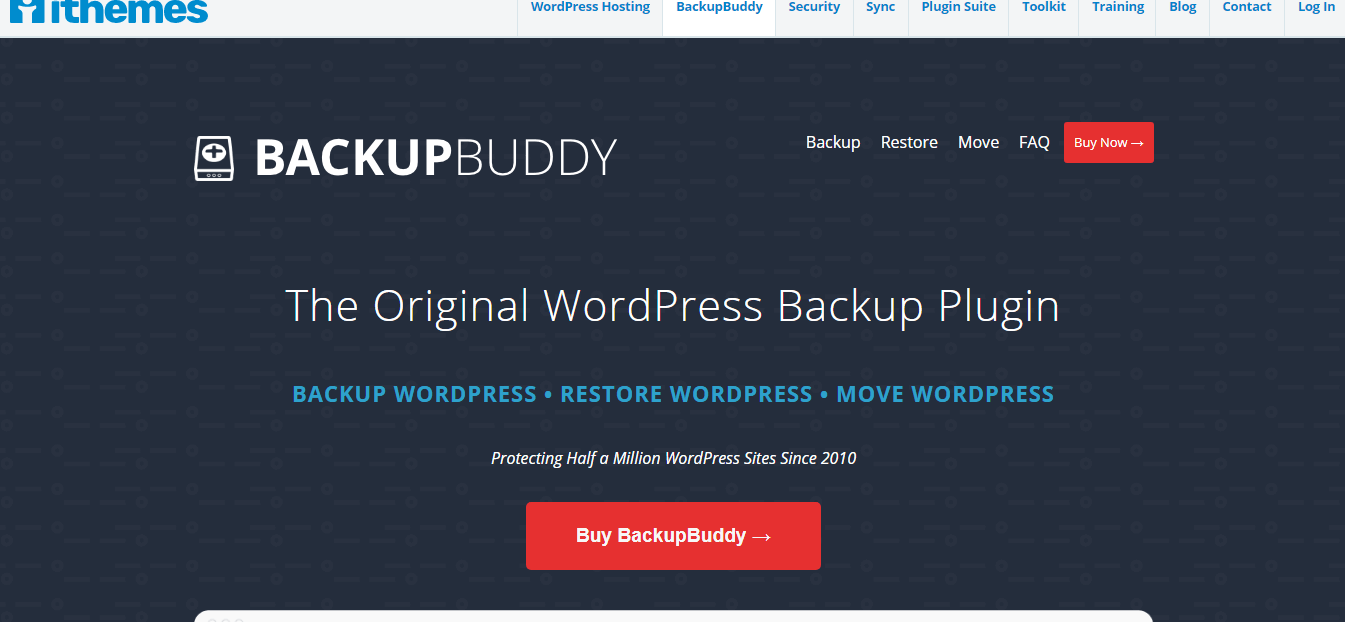 BackupBuddy
is the reliable WordPress site backup plugin and is been around since 2010. This plugin enables to backup, restore, and move WordPress sites. With just a few simple clicks, you can backup your complete WordPress website from your WordPress dashboard. From pages, posts, widgets, theme files, plugin files, comments, users, and media files, BackupBuddy backs up the complete WordPress installation and makes sure you have a copy of all your WordPress website files. Key Features of BackupBuddy
It does a malware scan for free to ensure your site remains clean.
It can look at your server settings to track down possible hosting problems
It can scan and repair common issues with your database.
Allows the customization option by allowing you to set the backup size storage limit.
Pricing
Offers 3 premium pricing plan options Blogger plan for $56 for 1 site (1-year plugin updates and support), Freelancer plan for $89 up to 10 sites (1-year plugin updates and support), and Gold plan for $140 for unlimited sites (1-year plugin updates and support)
BoldGrid Backup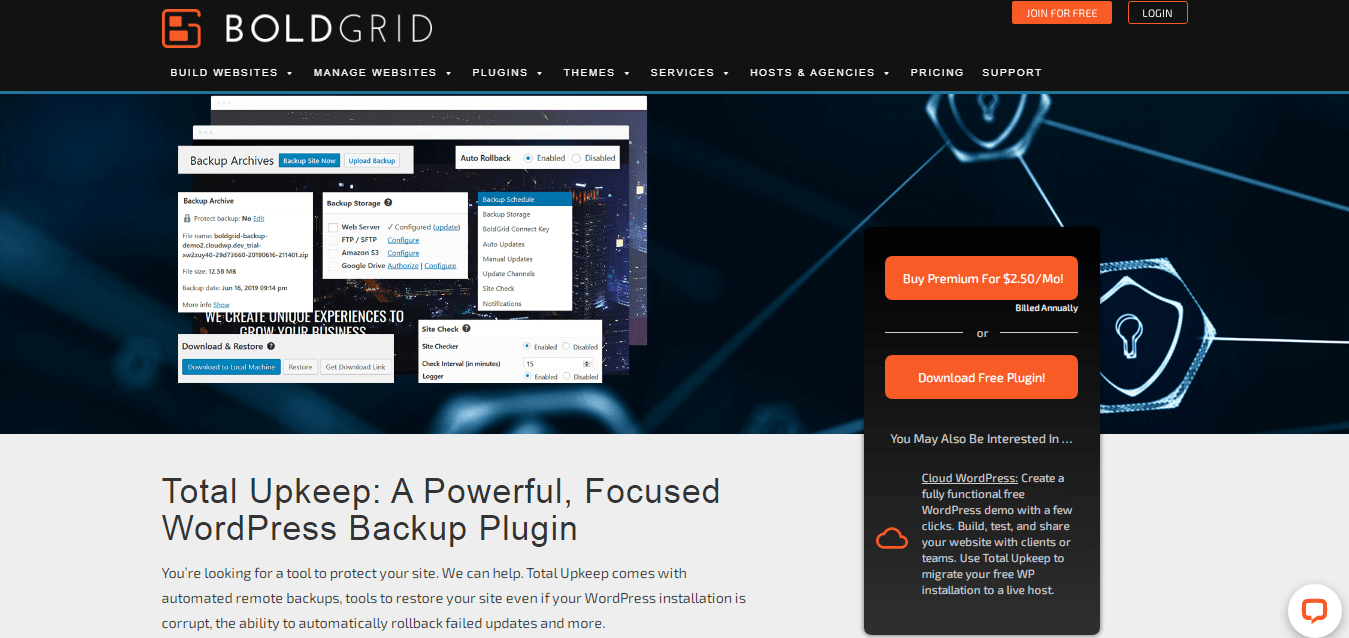 BoldGrid Backup
has got everything you need to backup your WordPress site, roll back your website if the theme or plugin updates fail, restore your site, and even move your site when switching hosts. The plugin from BoldGrid is now known as Total UpKeep that can easily automate backups, store the remote backup, and can perform site checks to prevent the possible website crashes. Key features of Total UpKeep WordPress backup plugin:
It allows both automated and manual backups.
Allows customizing backup options from the settings based on your needs
Supports remote backup with services like Amazon S3, Google Drive, FTP, or SFTP.
It allows the easy site migration.
Pricing
Both the free and premium versions are available for this plugin, the plugin premium plan can cost $30/year.
BackWPUP WordPress Plugin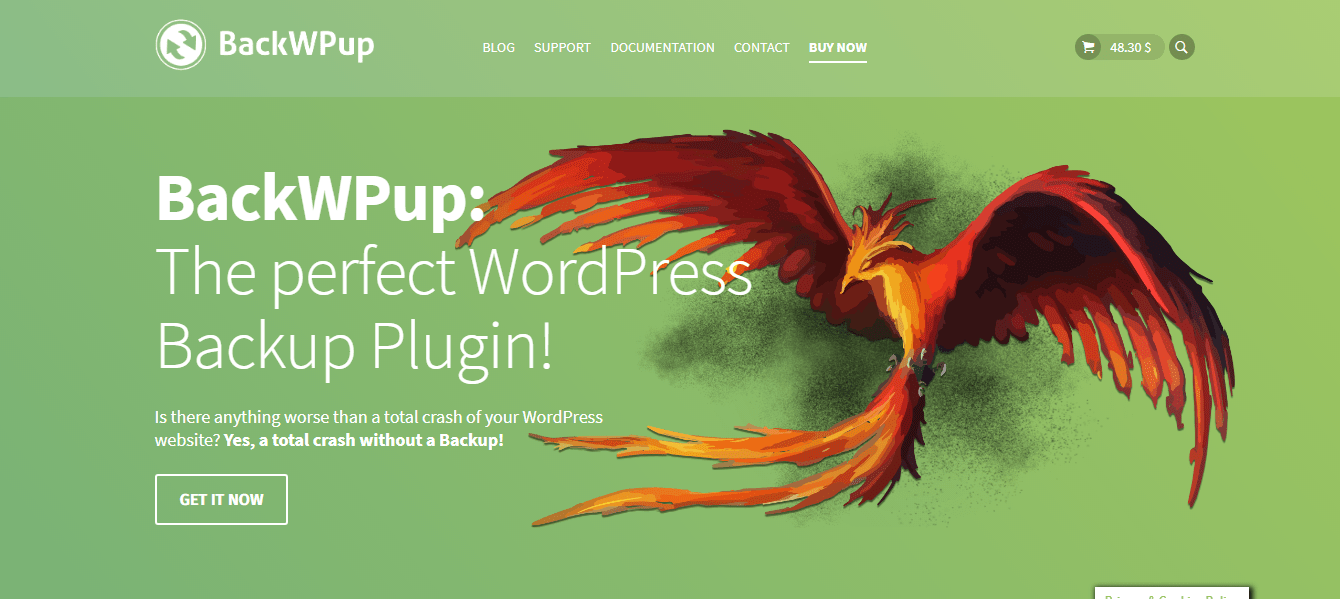 BackWPUP
is a WordPress Backup plugin that is extremely easy to use. It can save your entire WordPress installation and push them to external backup services like S3, Dropbox, FTP, and more. Features of BackWPUP WordPress Backup plugin:
It can easily restore an installation in a single .zip backup file.
Optimize, check and repair the database.
Enable you to send logs and backups by email.
Backup to Microsoft Azure, Dropbox, Google Drive, S3 services, Rackspace cloud files, FTP, and more.
Pricing
This plugin has both free and premium plan options for its users. The standard premium plan starts from $48.30 for 1 site with 1-year support and updates.
BackupWordPress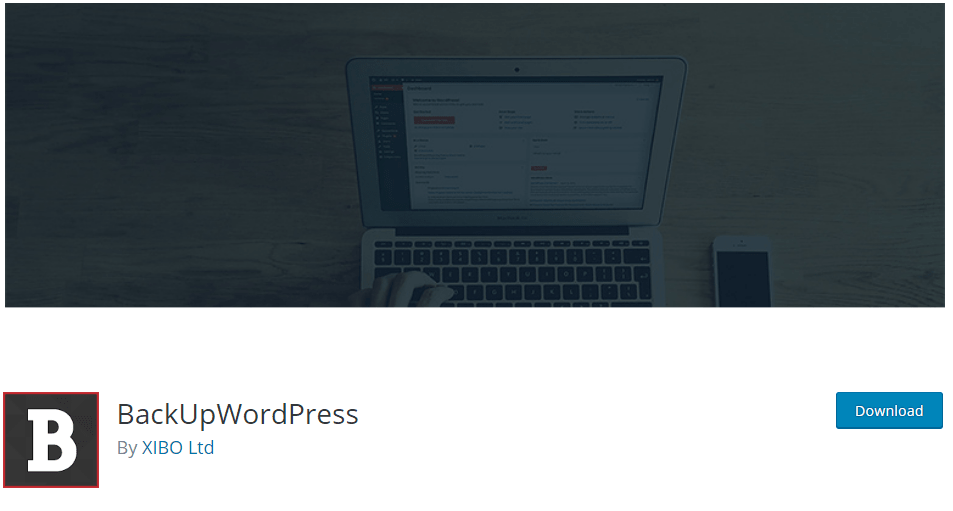 BackupWordPress
is a free WordPress backup plugin that is easy to use as it doesn't require any setup configuration. BackupWordpress can automatically backup your entire WordPress site that includes your all files and database on a scheduled time. Key features of BackupWordPress:
Allows the option to have each backup file via email.
It allows you to manage multiple schedules.
For faster backup, it uses zip files.
The plugin can work on Linux and Windows server.
Pricing
It's a free plugin.
Final Thoughts
From the given list of WordPress backup plugins, all of them offer complete file and database backup. However, the choice of plugin varies depending on the size of the WordPress site from small, medium, or large-sized websites. Hopefully, this list of the best WordPress backup plugin would help you to pick the one that fits best for your WordPress site.